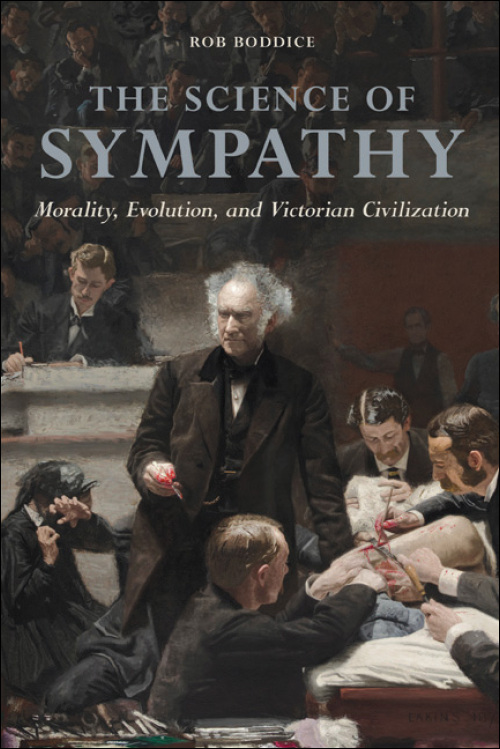 The Science of Sympathy
Morality, Evolution, and Victorian Civilization
How the first generation of Darwinists redefined the idea of sympathy
Cloth – $110
978-0-252-04058-0
Paper – $28
978-0-252-08205-4
eBook – $19.95
978-0-252-09902-1
Publication Date
Paperback: 11/28/2016
Cloth: 11/28/2016
About the Book
In his
Descent of Man
, Charles Darwin placed sympathy at the crux of morality in a civilized human society. His idea buttressed the belief that white, upper-class, educated men deserved their sense of superiority by virtue of good breeding. It also implied that societal progress could be steered by envisioning a new blueprint for sympathy that redefined moral actions carried out in sympathy's name.
Rob Boddice joins a daring intellectual history of sympathy to a portrait of how the first Darwinists defined and employed it. As Boddice shows, their interpretations of Darwin's ideas sparked a cacophonous discourse intent on displacing previous notions of sympathy. Scientific and medical progress demanded that "cruel" practices like vivisection and compulsory vaccination be seen as moral for their ultimate goal of alleviating suffering. Some even saw the so-called unfit--natural targets of sympathy--as a danger to society and encouraged procreation by the "fit" alone. Right or wrong, these early Darwinists formed a moral economy that acted on a new system of ethics, reconceptualized obligations, and executed new duties. Boddice persuasively argues that the bizarre, even dangerous formulations of sympathy they invented influence society and civilization in the present day.
About the Author
Rob Boddice works at the Department of History and Cultural Studies, Freie Universität Berlin. His books include Edward Jenner and Pain: A Very Short Introduction.
Reviews
"A landmark work in the history of science and the emotions."--
Journal of the History of Medicine and Allied Sciences
"
The Science of Sympathy
is an impressive achievement, stimulating, interesting, and well-written."--
British Journal for the History of Science
"A well-written and accessible book that clearly explains complex ideas while introducing the reader to the novel insights yielded by the study of the history of emotions . . . challenging and stimulating." --
Victorian Studies
"Boddice offer[s] challenging departures from Victorian evolutionary thought that reflect in rich and complex ways on the intellectual crosscurrents of Victorian culture and society, as well as the emerging contingencies of modernism." --
Isis
---
Blurbs
"Exemplary. Boddice demonstrates that the culture of Victorian science changed irreversibly what sympathy could mean and how it could be felt. The book will be at the top of my list when people ask, 'What does it look like when you do the history of emotions?' This is what it looks like."--Daniel M. Gross, author of The Secret History of Emotion: From Aristotle's Rhetoric to Modern Brain Science

"Stimulating and interesting. Boddice has taken some of the most important topics in nineteenth-century history and made them his own."--Joanna Bourke, author of The Story of Pain: From Prayer to Painkillers
---