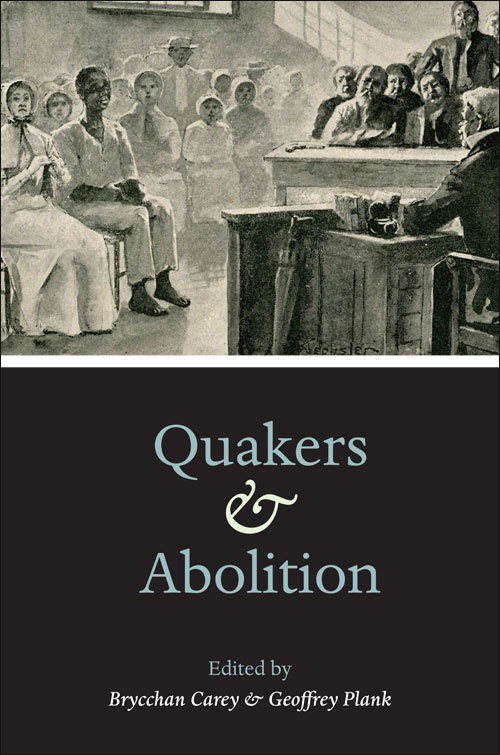 Quakers and Abolition
The controversies that roiled the Quaker antislavery movement
Cloth – $47
978-0-252-03826-6
Paper – $25
978-0-252-08347-1
eBook – $19.95
978-0-252-09612-9
Publication Date
Paperback: 02/26/2018
Cloth: 04/28/2014
About the Book
This collection of fifteen insightful essays examines the complexity and diversity of Quaker antislavery attitudes across three centuries, from 1658 to 1890. Contributors from a range of disciplines, nations, and faith backgrounds show how Quakers often disagreed with one another and the larger antislavery movement about slavery itself and the best path to emancipation. Far from having monolithic beliefs, Quakers embraced such diverse approaches as benevolent slaveholding, both gradual and comprehensive abolition, and consumer boycotts of slave-produced products.
These evolving and uneven conceptions of slavery and emancipation were similar to the varied views Quakers had on racial integration. Offering a nuanced interpretation of these controversial topics--one that often diverges from existing scholarship--contributors discuss how Quakers attempted to live out their faith's antislavery imperative. Essays address Quaker missions in Barbados; the interplay between African-American and Quaker communities in Pennsylvania and New Jersey; transatlantic correspondence between a colonialist Quaker and a freed slave who "returned-to-Africa" as a Liberian colonist; and the impact of Quaker-authored frontier literature.
Not surprisingly, this complicated and evolving antislavery sensibility left behind an equally complicated legacy. Focusing on Great Britain, France, and the United States, contributors show how Quaker antislavery actions and writings influenced revolutions and antislavery in those countries. Yet the Quaker contribution is also a hidden one because it so rarely receives substantive attention in modern classrooms and scholarship. This volume faithfully seeks to correct that oversight, offering accessible and provocative new insights on this key chapter of religious, political, and cultural history.
Contributors include Dee E. Andrews, Kristen Block, Brycchan Carey, Christopher Densmore, Andrew Diemer, J. William Frost, Thomas D. Hamm, Nancy A. Hewitt, Maurice Jackson, Anna Vaughan Kett, Emma Jones Lapsansky-Werner, Gary B. Nash, Geoffrey Plank, Ellen M. Ross, Marie-Jeanne Rossignol, James Emmett Ryan, and James Walvin.
About the Author
Brycchan Carey is a professor of English at Northumbria University and the author of From Peace to Freedom: Quaker Rhetoric and the Birth of American Antislavery, 1657-1761. Geoffrey Plank is a professor of early modern history at the University of East Anglia and the author of John Woolman's Path to the Peaceable Kingdom: A Quaker in the British Empire.
Reviews
"This work provides a more complete understanding of the diversity and complexity of historical Quaker responses to slavery/anti-slavery."--
Choice
"An excellent overview of recent scholarship on Quaker antislavery and introduces readers to several new topics for future analysis. . . . the book should be of interest to those long familiar with this subject as well as to a broader audience seeking to understand the influence of the Quakers' religious experience on the antislavery movement."--
Journal of American History
"This book. . .. puts on the table numerous richly detailed pieces of the puzzle that is Quakers' antislavery. The essays are a pleasure to read, both individually and as a group, and they are indicative of the exciting directions in which scholarship at the intersection of Quaker and abolitionist historiography might be headed."--
Civil War Book Review
"Required reading for scholars of Quaker history."--
Journal of Southern History
"The editors write in their introduction that they hope 'the essays offered here will raise as man questions as they answer and encourage further research' (p. 10). They succeed admirably in this goal, presenting a strong collection of essays that leave one inspired to learn more."--
North Carolina Historical Review
"The book is remarkably transatlantic (in its contributors and its subjects) and will serve to expand and enrich our analyses of the British and American antislavery movement(s)."--
American Studies
---
Blurbs
"A nicely balanced volume in every way, important not only for what it covers but also for how it will inspire future students of Quakers and race. These essays encourage other scholars to reexamine Quakers and their interracial activism, while suggesting a variety of useful new perspectives and tools."--Allan W. Austin, author of Quaker Brotherhood: Interracial Activism and the American Friends Service Committee, 1917-1950

"A unique volume that well illustrates the richness of its subject. Quakers and Abolition offers fresh takes on several key debates and unsettles or complicates many simplistic assumptions about the subject."--Jonathan D. Sassi, author of A Republic of Righteousness: The Public Christianity of the Post-Revolutionary New England Clergy
---