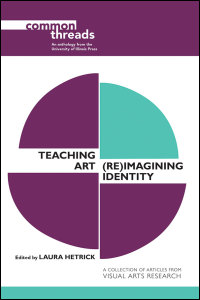 Teaching Art, (Re)Imagining Identity
Encouraging art education's role in the construction of a self
Paper – $25
978-0-252-08403-4
eBook – $9.95
978-0-252-05110-4
Publication Date
Paperback: 11/26/2018
About the Book
Artmaking and art education helps students explore their identities in positive and constructive ways. In these situations, educators create a supportive space for young people to work through the personal and cultural factors influencing their journey.
Laura Hetrick draws on articles from the archives of Visual Arts Research to guide educators' in using art to help students—and particularly marginalized students—explore and shape personal identity. Juxtaposing the scholarship in thought-provoking ways, Hetrick lays out specific methods that encourage students to explore identity through artmaking. She also looks at how creating art reinforces identity in positive ways. A final section offers suggestions on how educators can use each essay to engage with students who are imagining, and reimagining, their identities in the classroom and beyond.
Contributors: D. Ambush, M. S. Bae-Dimitriadis, J. C. Castro, K. Cosier, C. Faucher, K. Freedman, F. Hernandez, L. Hetrick, K. Jenkins, E. Katter, M. Lalonde, L. Lampela, D. Pariser, A. Pérez Miles, M. Richard, and K. Schuler.
About the Author
Laura Hetrick is an assistant professor of art education at the University of Illinois at Urbana-Champaign and the coeditor of the journal Visual Arts Research.
---