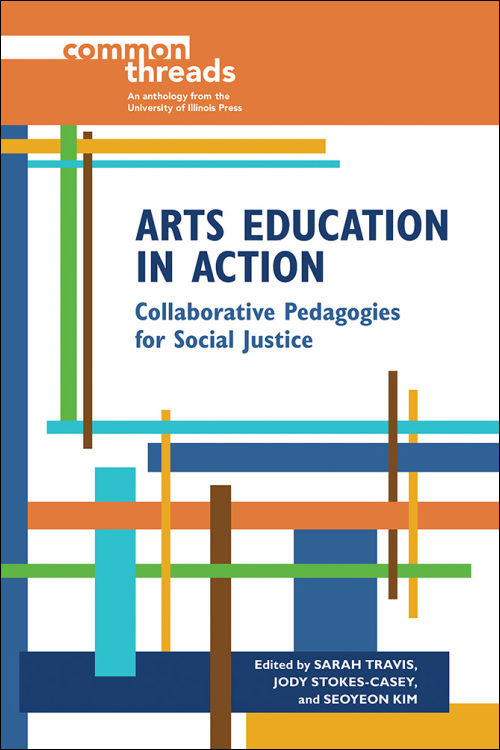 Arts Education in Action
Collaborative Pedagogies for Social Justice
A guide to hands-on engagement with topics of social justice in art education classrooms
Paper – $25
978-0-252-08565-9
eBook – $9.95
978-0-252-05254-5
Publication Date
Paperback: 11/23/2020
About the Book
Arts educators have adopted social justice themes as part of a larger vision of transforming society. Social justice arts education confronts oppression and inequality arising from factors related to race, ethnicity, nationality, religion, class, ability, gender, and sexuality.
This edition of Common Threads investigates the intersection of social justice work with education in the visual arts, music, theater, dance, and literature. Weaving together resources from a range of University of Illinois Press journals, the editors offer articles on the scholarly inquiry, theory, and practice of social justice arts education. Selections from the past three decades reflect the synergy of the diverse scholars, educators, and artists actively engaged in such projects. Together, the contributors bring awareness to the importance of critically reflective and inclusive pedagogy in arts educational contexts. They also provide pedagogical theory and practical tools for building a social justice orientation through the arts.
Contributors: Joni Boyd Acuff, Seema Bahl, Elizabeth Delacruz, Elizabeth Garber, Elizabeth Gould, Kirstin Hotelling, Tuulikki Laes, Monica Prendergast, Elizabeth Saccá, Alexandra Schulteis, Amritjit Singh, and Stephanie Springgay
About the Author
Sarah Travis is an assistant professor in art education in the School of Art + Design at the University of Illinois at Urbana-Champaign. She is the coeditor of Pedagogies in the Flesh: Case Studies on the Embodiment of Sociocultural Differences in Education. Jody Stokes-Casey is an instructional support assistant at the Center for Innovation in Teaching & Learning at the University of Illinois at Urbana-Champaign, a PhD student in art education, and a recipient of the Illinois Distinguished Fellowship at the University of Illinois at Urbana-Champaign. Seoyeon Kim is an MA student in art education at the University of Illinois at Urbana-Champaign.
---