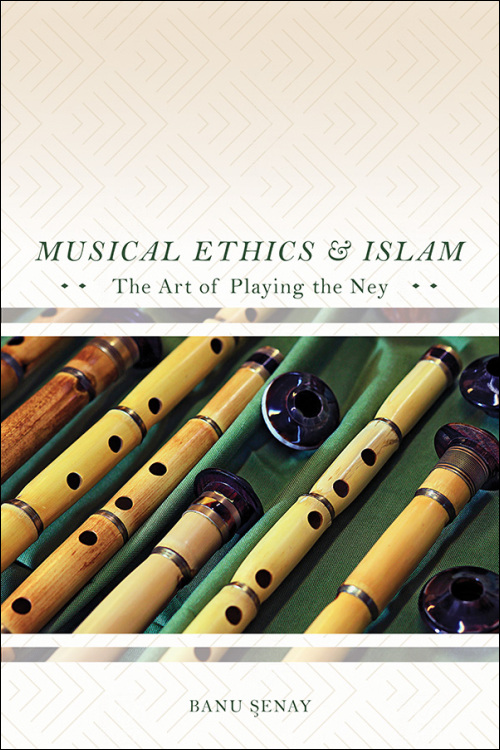 Musical Ethics and Islam
The Art of Playing the Ney
The sweet servitude of learning the ney in contemporary Turkey
Cloth – $110
978-0-252-04302-4
Paper – $28
978-0-252-08488-1
eBook – $19.95
978-0-252-05188-3
Publication Date
Paperback: 04/06/2020
Cloth: 04/06/2020
About the Book
After the establishment of the Turkish Republic, Turkey's secularized society disdained the ney, the Sufi reed flute long associated with Islam. The instrument's remarkable revival in today's cities has inspired the creation of teaching and learning sites that range from private ney studios to cultural and religious associations and from university clubs to mosque organizations.
Banu Senay documents the years-long training required to become a neyzen—a player of the ney. The process holds a transformative power that invites students to create a new way of living that involves alternative relationships with the self and others, changing perceptions of the city, and a dedication to craftsmanship. Senay visits reed harvesters and travels from studios to workshops to explore the practical processes of teaching and learning. She also becomes an apprentice ney-player herself, exploring the desire for spirituality that encourages apprentices and masters alike to pursue ney music and its scaffolding of Islamic ethics and belief.
About the Author
Banu Senay is a lecturer in the Department of Anthropology at Macquarie University, Australia. She is the author of Beyond Turkey's Borders: Long-distance Kemalism, State Politics, and the Turkish Diaspora.
Reviews
---
Blurbs
"Musical Ethics and Islam is easy on the mind's eye and the ear, full of insight, and a genuine pleasure to read. Senay well understands her instrument, the crafting of its sounds and the complex demands of her teacher's 'jealous gift.' It charts a new and distinct route through the cultural complexities of Islamic revival in Turkey and beyond; her conclusions will be of real interest to anthropologists of music and of Islam alike."--Martin Stokes, coeditor of Islam and Popular Culture

"Musical Ethics and Islam is a ground-breaking ethnography of the interplay of aesthetic experience and social ideology, art and life. Banu Senay expertly interleaves personal experiences of 'sweet servitude' to a ney master with luminous accounts of the ethical, affective, and political aspects of music in post-Kemalist Turkey and the ney revival of recent years."--Michael Jackson, author of The Work of Art: Rethinking the Elementary Forms of Religious Life
---