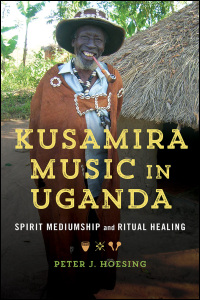 Kusamira Music in Uganda
Spirit Mediumship and Ritual Healing
A performance culture of illness and wellness
Cloth – $110
978-0-252-04382-6
Paper – $28
978-0-252-08581-9
eBook – $19.95
978-0-252-05272-9
Publication Date
Paperback: 10/26/2021
Cloth: 10/26/2021
About the Book
In southern Uganda, ritual healing traditions called kusamira and nswezi rely on music to treat sickness and maintain well-being. Peter J. Hoesing blends ethnomusicological fieldwork with analysis to examine how
kusamira and nswezi
performance socializes dynamic processes of illness, wellness, and health. People participate in these traditions for reasons that range from preserving ideas to generating strategies that allow them to navigate changing circumstances. Indeed, the performance of kusamira and nswezi reproduces ideas that remain relevant for succeeding generations. Hoesing shows the potential of this social reproduction of well-being to shape development in a region where over 80 percent of the population relies on traditional healers for primary health care.
Comprehensive and vivid with eyewitness detail, Kusamira Music in Uganda offers insight into important healing traditions and the overlaps between expressive culture and healing practices, the human and other-than-human, and Uganda's past and future.
* Publication supported by a grant from the L.J. and Mary C. Skaggs Folklore Fund.
About the Author
Peter J. Hoesing is Director of Sponsored Programs at Dakota State University and an adjunct assistant professor at the University of South Dakota Sanford School of Medicine.
Reviews
---
Blurbs
"An important work, this book is the first in-depth, interdisciplinary study of spirit mediumship as both a healing mechanism and musical way of life in south-central Uganda. It is relevant to African studies, anthropology, ethnomusicology, history, and public health."--Damascus Kafumbe, author of Tuning the Kingdom: Kawuugulu Musical Performance, Politics, and Storytelling in Buganda
---