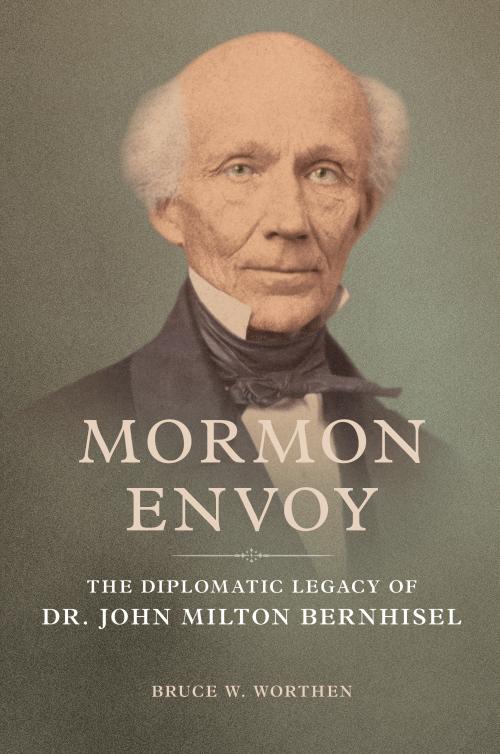 Mormon Envoy
The Diplomatic Legacy of Dr. John Milton Bernhisel
Negotiating for the Latter-day Saints during a tumultuous era in Church history
Cloth – $125
978-0-252-04480-9
Paper – $29.95
978-0-252-08689-2
eBook – $14.95
978-0-252-05385-6
Publication Date
Paperback: 01/24/2023
Cloth: 01/24/2023
About the Book
For more than twenty years, John Milton Bernhisel negotiated with powerful interests, including the federal government, on behalf of the Church of Jesus Christ of Latter-day Saints. Bruce W. Worthen illuminates the life and work of the man whose diplomacy steered the Church's relationship with Washington, D.C., from its early period of dangerous conflict to a peaceful and pragmatic coexistence.
Having risen from a Pennsylvania backcountry upbringing to become a respected member of the upper class, Bernhisel possessed a personal history that allowed him to reach common ground with politicians and other outsiders. He negotiated for Joseph Smith's life and, after the Church's relocation to the Utah Territory, took on the task of rehabilitating the public image of the Latter-day Saints. Brigham Young's defiance of the government undermined Bernhisel's work, but their close if sometimes turbulent relationship ultimately allowed Bernhisel to make peace with Washington, secure a presidential pardon for Young, and put Utah and the Latter-day Saints on the road to formally joining the United States.
About the Author
Bruce W. Worthen is an independent scholar.
Reviews
---
Blurbs
"Mormon Envoy recovers the fascinating life of John Bernhisel, a physician-turned-diplomat with unprecedented access to mid-nineteenth-century American and Latter-day Saint leaders. If you ever wanted to be a fly on the wall for pioneer-era Mormonism's formative personalities, events, and controversies, this book is for you."--Patrick Q. Mason, author of Planted: Belief and Belonging in an Age of Doubt
---