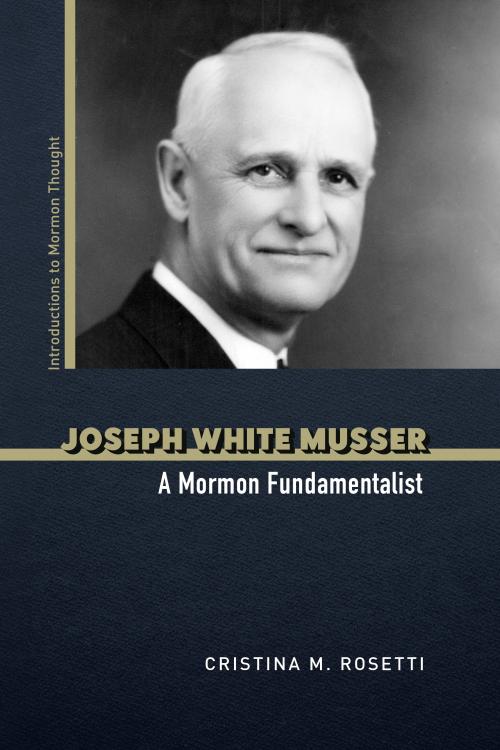 Joseph White Musser
A Mormon Fundamentalist
The life and still-influential work of a Mormon non-conformist
Cloth – $110
978-0-252-04563-9
Paper – $14.95
978-0-252-08775-2
eBook – $14.95
978-0-252-05530-0
Publication Date
Paperback: 02/27/2024
Cloth: 02/27/2024
About the Book
In 1921, the Church of Jesus Christ of Latter-day Saints excommunicated Joseph White Musser for his refusal to give up plural marriage. Cristina M. Rosetti tells the story of how a Church leader followed his beliefs into exile and applied the religious thought he began to develop in the mainline faith to become a foundational theologian of Mormon fundamentalism.
Musser's devotion to Joseph Smith's vision and the faith's foundational texts reflected a widespread uneasiness with, and reaction against, changes taking place across society. Rosetti analyzes how Musser's writing and thought knit a disparate group of outcast LDS believers into a movement. She also places Musser's eventful life against the backdrop of a difficult period in LDS history, when the Church strained to disentangle itself from plural marriage and leaders like Musser emerged to help dissident members make sense of their lives outside the mainstream.
The first book-length account of the Mormon thinker, Joseph White Musser reveals the figure whose teachings helped mold a movement.
About the Author
Cristina M. Rosetti is an assistant professor of humanities at Utah Tech University.
Reviews
---
Blurbs
"Cristina Rosetti places Joseph Musser in his rightful place as a consequential figure within the Mormon diaspora. And in so doing, she demonstrates the ideological dimensions of Mormon fundamentalism--a diverse, layered, and even modern expression of religious innovation."--Benjamin E. Park, author of American Zion: A New History of Mormonism
---