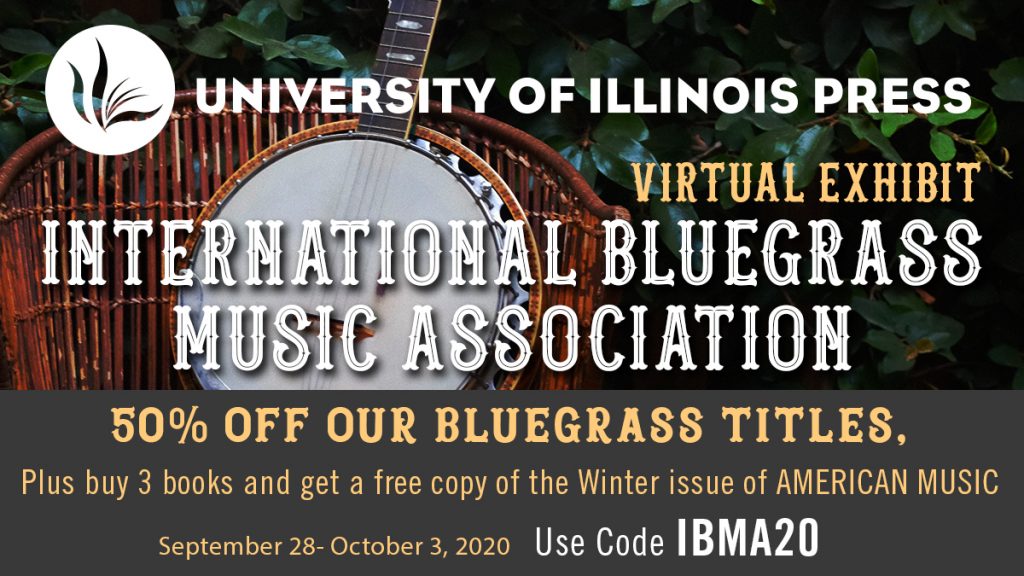 Welcome to the Press's 2020 IBMA Virtual Exhibit. Step inside, and browse our extensive collection of bluegrass titles, author publications, playlists, and more. Also, enjoy 50% off all bluegrass titles, as well as the chance to buy three titles to get a free copy of the Winter 2020 issue of American Music. Use Code IBMA20 when you order. Browse all of our titles on sale here.
Enter our IBMA drawing for a free copy of INDUSTRIAL BLUEGRASS and its companion CD from Smithsonian Folkways! Learn more here: https://mailchi.mp/83d1d9be3b7c/4985clvb40
Featured Publications
Let's Talk!
Make an appointment to talk about your book project with music editor Laurie Matheson or about your journal article with Todd Decker, editor of American Music.
Bluegrass Music at the Press
Revel in our Dolly Parton, Foggy Mountain Breakdown and female country music trailblazers playlists inspired by our books.
---
Unlikely Angel: The Songs of Dolly Parton Playlist
---
---
Hillbilly Maidens, Okies, and Cowgirls Playlist
Sneak Peak Inside Bill Monroe: The Life and Music of the Blue Grass Man
Everything You Ever Wanted to Know About the Banjo
Spanning centuries of music history, the banjo remains a recognizable and unique instrument in genres including bluegrass and folk. As the banjo reaches new parts of the world, we can trace back its appearances in the rise of many musical figures in American music. Read about eight books and two journal articles that explore the history and growth of the banjo and those who mastered its complex chords here.
Sneak Peak Inside Peggy Seeger: A Life of Music, Love, and Politics
Here More from Our Authors and Editors