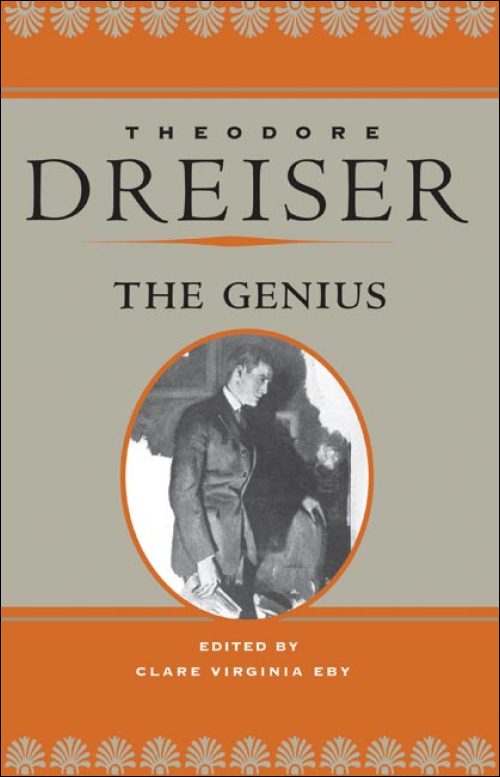 The Genius
Edited by Clare Virginia Eby
The original version of Dreiser's classic novel, in print for the first time
Cloth – $95
978-0-252-03100-7
Publication Date
Cloth: 02/11/2008
About the Book
Theodore Dreiser heavily invested himself in
The Genius,
an autobiographical novel first published in 1915. Thoroughly immersed in the turn-of-the-century art scene,
The Genius
explores the multiple conflicts between art and business, art and marriage, and between traditional and modern views of sexual morality. Despite heavy editing,
The Genius
was deemed so shocking that its sale was immediately prohibited by the New York Society for the Suppression of Vice. It was not released until 1923, and thereafter the episode confirmed Dreiser's status as a writer ahead of his time.
Clare Virginia Eby's new edition brings to print for the first time Dreiser's original version of the novel as he composed it in 1911. The protagonist Eugene Witla, as well as the women he loves, emerge as very different characters than they appear in the 1915 edition and the ending takes a markedly different turn. Witla is less the defiant rebel here and more a figure torn between conservatism and rebellion. Dreiser's attention to female characters' inner lives, their passions, sexual and otherwise, renders them more comprehensible and sympathetic. Long understood as the most autobiographical of Dreiser's novels, this new edition suggests a younger, less assertive Dreiser whose mature ideas of self, masculinity, artistic achievement, and worldly success were still in the process of formation.
About the Author
Clare Virginia Eby is a professor of English at the University of Connecticut. She is the author of Dreiser and Veblen, Saboteurs of the Status Quo, coeditor of The Cambridge Companion to Theodore Dreiser, and editor of the Norton Critical edition of Upton Sinclair's The Jungle.
Reviews
"This edition provides an opportunity to follow in close compass Dreiser's process of revision. It captures his point of view at a transitional moment in his career, and it sheds light on his subsequent work."--
Times Literary Supplement
---
Blurbs
"This is a superb edition: skillfully edited, fully annotated, usefully contextualized. We have been given a new and almost entirely unknown version of The Genius--the text as originally conceived by Dreiser. It now demands our attention and close study."--James L. W. West III, general editor of the Cambridge Fitzgerald Edition

"The Genius is one of the most overlooked and underrated of Dreiser's novels, yet it is arguably the key book for students of the writer, offering abundant materials for an understanding of the tensions between art and business and between romance and realism. It is also one of the finest portraits of marriage--and of the passions of marital frustration--in all of literature, as well as an exploration of the supposed sexual privileges of genius. Clare Eby's presentation of this earlier and previously unpublished Genius is a triumph of textual and interpretive scholarship, offering in its accompanying essays and apparatus a meticulous consideration of the similarities and differences between the two texts as well as copious explanatory notes. A great addition to Dreiser scholarship, this original version reminds us again of the fascinating evolution of Dreiser's powerful imagination."--Miles Orvell, author of The Real Thing: Imitation and Authenticity in American Culture, 1880-1940

"A first-rate piece of textual scholarship that provides a vital and valuable new perspective on an important novel."--Leonard Cassuto, Fordham University
---