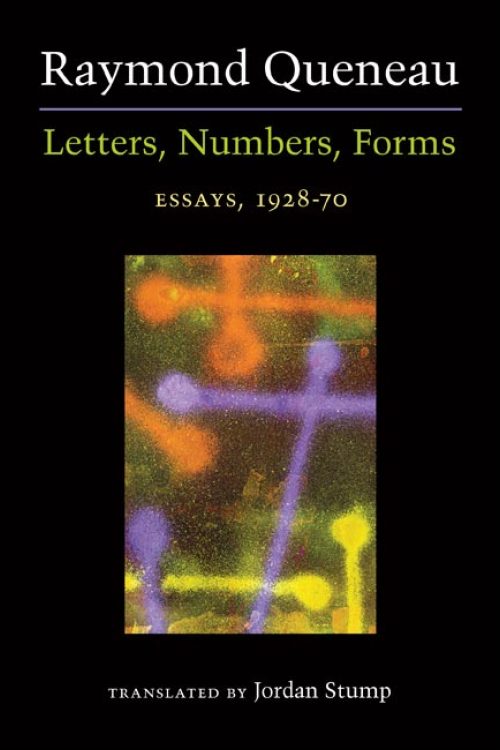 Letters, Numbers, Forms
Essays, 1928-70
Translated by Jordan Stump
The first English translation of essays from one of the twentieth century's most intriguing avant-garde writers
Cloth – $49
978-0-252-03187-8
Publication Date
Cloth: 10/15/2007
About the Book
Compiled from two volumes of Raymond Queneau's essays (
Bâtons, chiffres et lettres
and
Le Voyage en Grèce
), these selections find Queneau at his most playful and at his most serious, eloquently pleading for a certain classicism even as he reveals the roots of his own wildly original oeuvre. Ranging from the funny to the furious, they follow Queneau from modernism to postmodernism by way of countless captivating detours, including his thoughts on language, literary fashions, myth, politics, poetry, and other writers, such as William Faulkner, Gustave Flaubert, Victor Hugo, and Marcel Proust.
The first English translation of essays from one of the twentieth century's most intriguing avant-garde writers, this collection provides readers access to the fascinating range of Queneau's outlook and thinking: his fervent idealism, his encyclopedic curiosity, his tempestuous relationship with surrealism, and his frustration with conventional French grammar and spelling. In going beyond Queneau the novelist with these selections, translator Jordan Stump reveals another Queneau, one alive with intricate contradictions. Stump's introduction and explanatory notes about Queneau and other key figures and concepts guide the reader through an ever-evolving portrait of one of the twentieth century's most restless writers and thinkers.
About the Author
Raymond Queneau (1903-76) was a prolific writer of essays, poetry, and novels and was a leading member of a group of writers and mathematicians gathered under the name Ouvroir de Littérature Potentielle, or Oulipo. Jordan Stump is a professor of French at the University of Nebraska, Lincoln, and an award-winning translator of many French novels, including Claude Simon's Le Jardin des Plantes, Honoré de Balzac's The Wrong Side of Paris, and Jules Verne's Mysterious Island.
Reviews
"A novelist, poet, mathematician and linguistic theorist. . . . [Queneau] produced an oeuvre, as Jordan Stump rightly notes in his introduction to
Letters, Numbers, Forms,
the first selection in English of Queneau's essays, that is 'among the smartest and most restless in all of recent literature.'"
--The Nation
"Jordan Stump has done anglophone readers a great service in providing this well-chosen, thoughtfully translated collection."--
Times Literary Supplement
"A deeply compelling narrative of an encyclopedic, infinitely inquisitive, rigorous mind at work, right in the thick of things, over a period of four decades. . . . The translations are luminous ones, rigorously faithful to both the letter and the spirit of the original. . . . This is an important book, one that is long overdue, a book that will be welcomed by serious readers of any stripe, whether amateur or professional."--
Review of Contemporary Fiction
"[A] groundbreaking portrait of one of the twentieth century's most influential French writers."--
H-France
---
Blurbs
"I regard Jordan Stump as the finest translator from French of his generation, and the best imaginable fit for this long-overdue collection. It will be welcomed warmly by readers who have already whetted their appetite on Queneau's novels."--Warren Motte, author of Oulipo: A Primer of Potential Literature

"Jordan Stump's excellent translation and judicious selection makes for a consistently interesting volume of essays by one of the major French writers of the twentieth century."--Gerald Prince, author of Guide du roman de langue française (1901-1950)
---