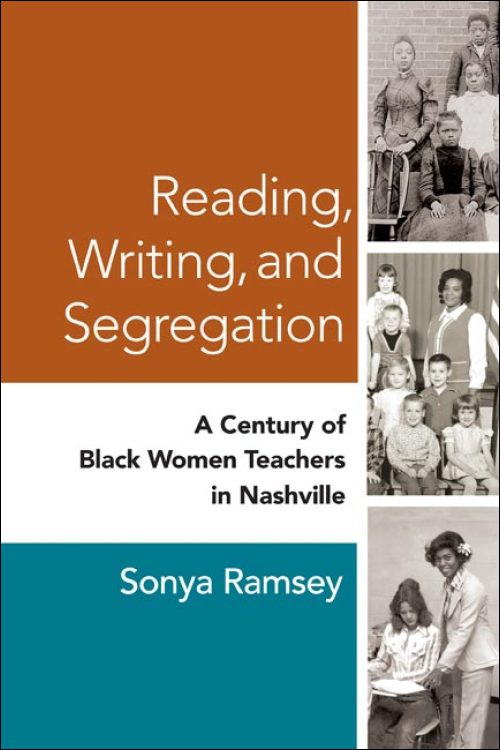 Reading, Writing, and Segregation
A Century of Black Women Teachers in Nashville
Teachers' stories of the segregation and integration of Nashville schools
Cloth – $39
978-0-252-03229-5
Publication Date
Cloth: 02/18/2008
About the Book
Beginning in 1867 with the inception of segregated public schools and ending in 1983, ten years after federal court-ordered desegregation,
Reading, Writing, and Segregation
details the experiences of African American women teachers in Nashville, Tennessee. Sonya Ramsey examines the familial and educational backgrounds, working environments, and political strategies of these women who constituted the majority of the city's black middle class. Black teachers were often role models for their students and community, but they still struggled for parity and respect from white colleagues. Ramsey's study contributes to the historical discussion of the complicated intersections of class and race and how they changed over time.
Grounded in extensive interviews with both black and white women who made the transition to integrated faculties, Ramsey reveals how educators in an urban southern environment responded not only to desegregation and integration but also to critical moments in U.S. history, such as world wars, the Great Depression, the Brown v. Board of Education decision, and the civil rights and women's movements. Her exploration of how they constructed middle-class identities and how desegregation transformed their roles as teachers reveals the links among class, gender, and race in segregated communities; the racialized and gendered meanings of professionalism; and the complex consequences of desegregation.
About the Author
Sonya Ramsey is an associate professor of history at the University of North Carolina, Charlotte.
Reviews
"Well-researched and well-written. . . . Ramsey has produced a study with important insights applicable not only to black female teachers in Nashville, but to other African Americans who faced the challenges of segregation and integration during this volatile era."--
Journal of American History
"A groundbreaking work on black education that focuses on black women teachers and their roles in the educational system and in their communities."--
H-SAWH
"Ramsey presents some fascinating insights into Nashville's black educational system and its black women teachers while also opening a path for historians to reassess how African American education differed within the urban South and developed in distinct ways."--
American Historical Review
"A quick read . . . Offers a rich analysis of African American women educators in Nashville, Tennessee."--
Journal of African American History
---
Blurbs
"Reading, Writing, and Segregation's great strength is its focus on black women teachers themselves, often by using interviews, and thus illuminating the culture of teaching and civic activism that these women forged over a century. An important addition to the controversy about how much (or how little) black teachers contributed to a narrowly defined civil rights movement and the debate about the 'failure' of Brown vs. Board of Education, this book is one of the few that tells us what it was actually like in segregated black schools. Without work like Ramsey's, debating the 'failure' of Brown is a circular debate based on nostalgia and not on historical information."--Glenda Gilmore, Peter V. and C. Vann Woodward Professor of History, Yale University
---