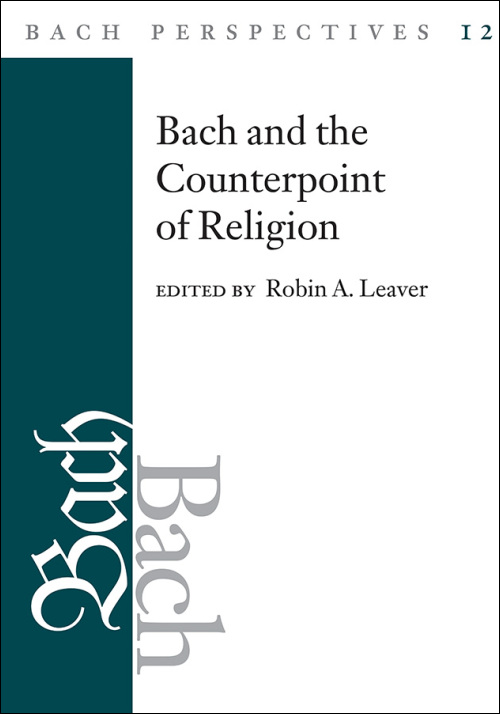 Bach Perspectives, Volume 12
Bach and the Counterpoint of Religion
Bach's music observed within the cross-currents of religion in the Eighteenth Century
Cloth – $50
978-0-252-04198-3
eBook – $19.95
978-0-252-05071-8
Publication Date
Cloth: 11/12/2018
About the Book
Johann Sebastian Bach was a Lutheran, and much of his music was for Lutheran liturgical worship. As these insightful essays in the twelfth volume of
Bach Perspectives
demonstrate, he was also influenced by--and in turn influenced--different expressions of religious belief. The vocal music, especially the
Christmas Oratorio
, owes much to medieval Catholic mysticism, and the evolution of the
B Minor Mass
has strong Catholic connections. In Leipzig, Catholic and Lutheran congregations sang many of the same vernacular hymns. Internal squabbles were rarely missing within Lutheranism-- for example, Pietists disliked concerted church music, especially if it employed specific dance forms. Also investigated here are broader issues such as the close affinity between Bach's cantata libretti and the hymns of Charles Wesley, and Bach's music in the context of the Jewish Enlightenment as shaped by Protestant Rationalism in Berlin.
Contributors: Rebecca Cypess, Joyce L. Irwin, Robin A. Leaver, Mark Noll, Markus Rathey, Derek Stauff, and Janice B. Stockigt.
About the Author
Robin A. Leaver is an emeritus professor of Sacred Music at Westminster Choir College, Princeton; honorary professor at Queen's University, Belfast; and a recent visiting professor at the Institute of Sacred Music at Yale University. He is the general editor of The Routledge Research Companion to Johann Sebastian Bach.
Reviews
"This volume is interesting and contains a wide variety of topics for the reader. . . .This serves as a very specialized collection of essays for the discerning scholar and student, regardless of his or her interest and association with Kantor Bach." --Concordia Theological Quarterly

"While many of the previous volumes will be of interest primarily to musicians, the current volume contains studies that will interest many readers of church history, especially Lutherans, and those interested in the relationship of various Christian denominations with each other. " --Lutheran Quarterly

"Meticulously edited by Robin Leaver, a veteran historian of Lutheran music, this stimulating work takes a closer look at the faith communities working alongside and around Johann Sebastian Bach (1685-1750). . . . Fascinating, beautifully produced." --Journal of Ecclesiastical History
---