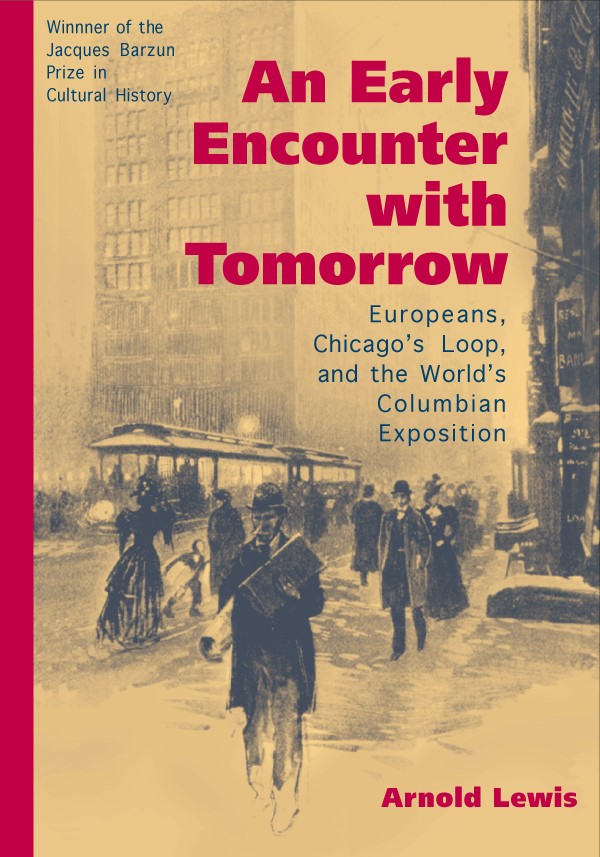 An Early Encounter with Tomorrow
Europeans, Chicago's Loop, and the World's Columbian Exposition
For the first time in sixty years, Chicago and the development of Chicago's Loop at a crucial and formative stage, is examined in light of its appearance, pace, and economic drive in a shattering encounter between Old-World assumptions and New-World realities.
Paper – $37
978-0-252-06965-9
Publication Date
Paperback: 01/01/2001
About the Book
Winner of the Jacques Barzun Prize in Cultural History given by the Council of the American Philosophical Society
Extravagantly illustrated with over seventy photographs, drawings, paintings, and contemporary cartoons, An Early Encounter with Tomorrow documents the mixture of amazement and alarm with which European visitors greeted 1890s Chicago: as a futuristic city animated by a crass, frenetic mercantile class. This volume also contains an extensive bibliography, arranged by country, and profiles of the foreign observers who sought the implications for European culture in what Asa Briggs called the "shock city" of the western world.
Reviews
"Lewis has produced an amazing book that won the Jacques Barzun Prize in cultural history and that argues for Chicago's importance in the emergence of modern America." --
Chicago Tribune
"According to Arnold Lewis . . . the more lasting impact on foreign visitors to the exposition was experienced not at the fairgrounds but rather in Chicago's bustling commercial Loop, where a far more amazing preview of the future was on display. . . . There . . . the audacious new vocabulary of steel-frame high-rise construction would within a generation revolutionize the practice of architecture more fully than at any time since the Renaissance. It was not just those innovative buildings that transfixed observant Europeans, but also the frenetic pace and abrupt habits of a public that seemed of a piece with its thrusting, no-nonsense surroundings. Here was a brave new world indeed, and its implications were at once fascinating and frightening to Old World believers in the civility of city life." -- Martin Filler, New York Times Book Review
"[An] excellent, enormously rich book. . . . Carefully researched, well-documented, clearly organized, and beautifully written, Lewis's book should be required reading for anyone in the fields of American history, cultural studies, and women's studies as well as architectural history. It is cultural history at its best." -- Meredith L. Clausen, American Historical Review
"An Early Encounter with Tomorrow offers a detailed cataloging and interpretation of a vast store of European commentary on Chicago's architectural achievement during the Gilded Age. Based upon exhaustive research in the published literature of the period, Lewis provides a fresh interpretive perspective, and at times an important historical corrective. . . . Arnold Lewis has produced a valuable companion piece to the latest works that interpret anew Chicago's contribution to the emergence of modern America." -- Dennis B. Downey, Illinois Historical Journal
Awards
Winner of the Jacques Barzun Prize in Cultural History, the American Philosophical Society, 1998.
---