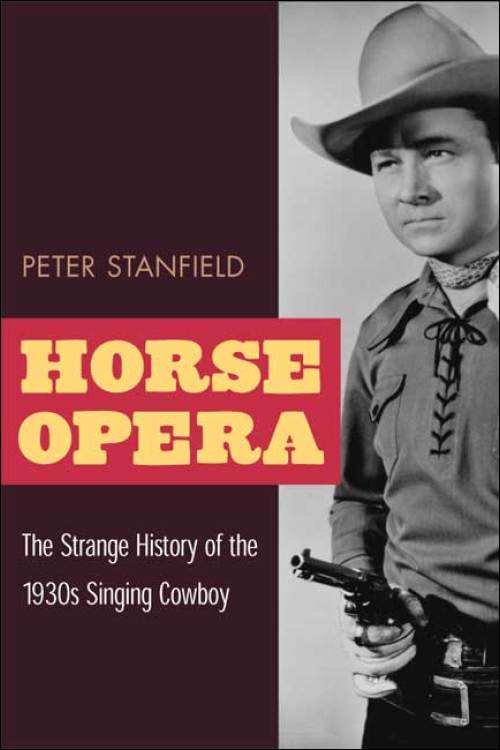 Horse Opera
The Strange History of the 1930s Singing Cowboy
Paper – $22
978-0-252-07049-5
Publication Date
Paperback: 01/01/2002
About the Book
In this innovative take on a neglected chapter of film history, Peter Stanfield challenges the commonly held view of the singing cowboy as an ephemeral figure of fun and argues instead that he was one of the most important cultural figures to emerge out of the Great Depression.The rural or newly urban working-class families who flocked to see the latest exploits of Gene Autry, Roy Rogers, Tex Ritter, andother singing cowboys were an audience largely ignored by mainstreamHollywood film. Hard hit by the depression, faced with the threat--and often the reality--of dispossession and dislocation, pressured to adapt to new ways of living, these small-town filmgoers saw their ambitions, fantasies, and desires embodied in the singing cowboy and their social and political circumstances dramatized in "B" Westerns.
Stanfield traces the singing cowboy's previously uncharted roots in the performance tradition of blackface minstrelsy and its literary antecedents in dime novels, magazine fiction, and the novels of B. M. Bower, showing how silent cinema conventions, the developing commercial music media, and the prevailing conditions of film production shaped the "horse opera" of the 1930s. Cowboy songs offered an alternative to the disruptive modern effects of jazz music, while the series Western--tapping into aesthetic principles shunned by the aspiring middle class--emphasized stunts, fist fights, slapstick comedy, disguises, and hidden identities over narrative logic and character psychology. Singing cowboys also linked recording, radio, publishing, live performance, and film media.
Entertaining and thought-provoking, Horse Opera recovers not only the forgotten cowboys of the 1930s but also their forgotten audiences: the ordinary men and women whose lives were brightened by the sights and songs of the singing Western.
Reviews
"This is a pioneering work of scholarship. . . . a serious and sustained look at the world of the singing cowboy of the 1930s. Peter Stanfield brings to this neglected material a wealth of knowledge of American popular music and other cultural traditions. . . . His book will decisively affect future histories of the Western."--Edward Buscombe, author of The Searchers
---