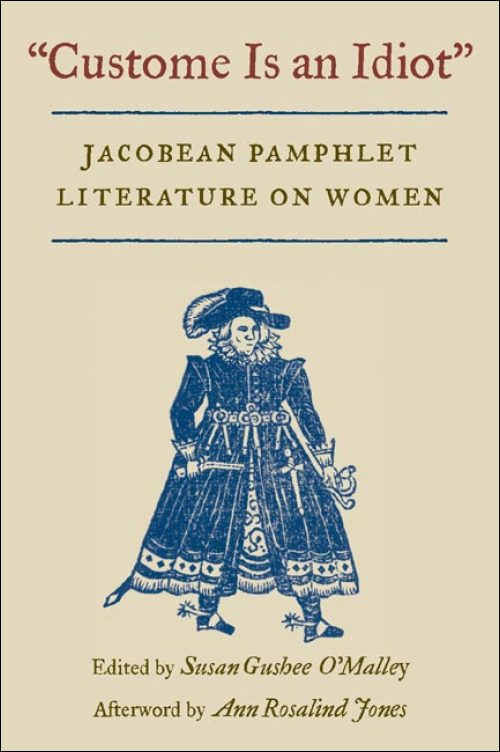 "Custome Is an Idiot"
Jacobean Pamphlet Literature on Women
Afterword by Ann Rosalind Jones
Six complete, annotated pamphlets on the role of women in 17th Century society. They give insight into debates within English culture on gossips, treatises against wife-beating, superiority of women, and cross-dressing.
Paper – $35
978-0-252-07128-7
Publication Date
Paperback: 01/01/2004
About the Book
Containing the complete and annotated texts of six pamphlets written between 1609 and 1620,
"Custome Is an Idiot"
makes an invaluable contribution to the scholarship on early modern British cultural history, specifically on competing opinions about the role of women in society.
During the early seventeenth century a fierce debate raged in British intellectual society regarding the role of women, how much is ordained by God, and how much is merely custom. The pamphlets that circulated at the time reveal a great deal about the terms of the debate, and these six constitute a significant body of primary literature, allowing the contending voices to be heard anew.
Included here are two pamphlets about gossips by Samuel Rowlands, William Heale's treatise against wife-beating, Christopher Newstead's argument for the superiority of women, and Hic Mulier and Haec Vir, two pamphlets that address the theme of cross-dressing. Introductions by Susan Gushee O'Malley place each pamphlet in a wider context, and detailed annotations shed light on the individual texts.
Reviews
"We still have much to learn about the lives of women and the attitudes toward them in early modern England. Susan O'Malley's six texts make a valuable contribution to such a project and her careful editing and generous notations guide us in recovering an essential part of the culture."–Arthur F. Kinney, President, Renaissance English Text Society
Awards
A co-winner of the Josephine Roberts Edition Award given by the Society for the Study of Early Modern Women (2005).
---