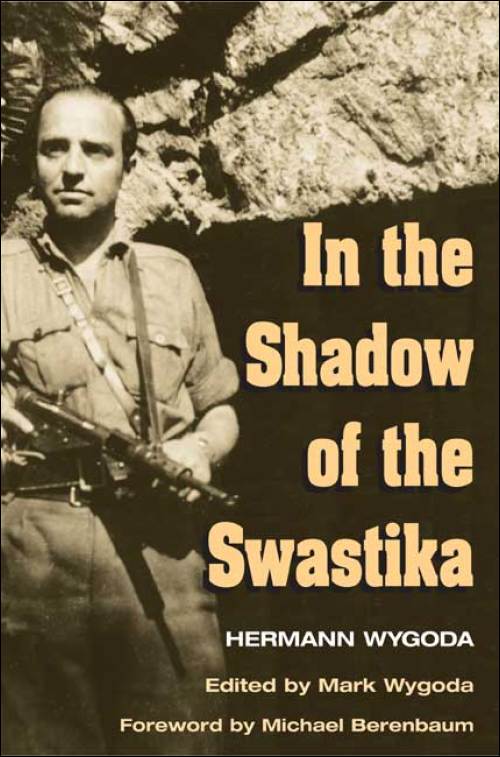 In the Shadow of the Swastika
Edited by Mark Wygoda. Foreword by Michael Berenbaum
The defiant Polish Jewish hero who commanded Italian resistance fighters during WWII
Paper – $24.95
978-0-252-07139-3
Publication Date
Paperback: 08/04/2003
About the Book
He was known first as a Warsaw ghetto smuggler, then as Comandante Enrico. He traveled under false identity papers and worked at a German border patrol station. Throughout the years of the Holocaust, Hermann Wygoda lived a life of narrow escapes, daring masquerades, and battles that almost defy reason.
Unique among Holocaust memoirs, In the Shadow of the Swastika celebrates the memory of a man who received decorations from three Western powers and who, years later, was honored posthumously by the Italian city he helped to liberate.
About the Author
Hermann Wygoda (1906-1982) was a Polish Jewish resistance fighter who smuggled goods into the Warsaw Ghetto and later became a commander in the Italian resistance. Mark Wygoda is a professor and head of the biology and health sciences department at McNeese State University. Michael Berenbaum is a professor of Jewish studies and the director of the Sigi Ziering Institute at American Jewish University in Los Angeles, and formerly served as president and CEO of the Survivors of the Shoah Visual History Foundation in Los Angeles.
Reviews
"Wygoda's memoir supplies fresh evidence concerning the lives of the Jews who passed as Gentiles during the Holocaust. Highly recommended."--Choice

"This vivid memoir . . . is a testament to the courage of an extraordinary man."--Booklist

"The courage and altruism of Hermann Wygoda place him in the pantheon of inspirational Jewish heroes of the Holocaust."--American Jewish Congress Monthly

"How does a Polish Jew become an Italian hero? The story of Hermann Wygoda, who fought Nazis as the commander of an Italian partisan brigade, would read as a fanciful tale had it not been documented by scores of independent sources."--Jerusalem Post

"An almost unbelievable story of courage and opportunity. Wygoda shows us a side of the Holocaust years we seldom get to see."--Reform Judaism
---