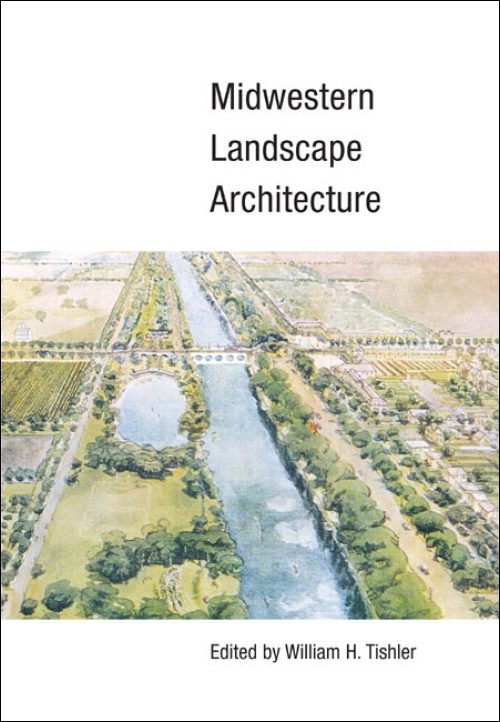 Midwestern Landscape Architecture
Richly illustrated and readable, this is the first historical overview of landscape architecture in the Midwest
Paper – $27
978-0-252-07214-7
Publication Date
Paperback: 01/01/2004
About the Book
This richly illustrated collection profiles the bold innovators in landscape architecture who, around the turn of the twentieth century, ventured into the nation's heartland to develop a new style of design celebrating the native midwestern landscape.
The pioneers of landscape architecture in the Midwest are responsible for creating some of the most recognizable parks, cemeteries, recreation areas, and other public gathering places in the region. Midwestern Landscape Architecture includes essays on Adolph Strauch, who introduced a new concept of visually integrated landscape treatment in Cincinnati's Spring Grove Cemetery; William Le Baron Jenney, designer of Chicago's diverse West Parks; and Jens Jensen, who created the American Garden in Union Park in Chicago (a celebration of native flora) and founder of The Clearing, a unique school of the arts and humanities in Wisconsin. Other major figures include Frederick Law Olmsted Sr., co-designer of New York's Central Park, whose work in the Midwest included the layout of the 1893 World's Columbian Exposition, and Ossian Cole Simonds, who helped reconcile the formal approach of the City Beautiful movement with the naturalism of the Prairie School in urban park design.
This volume also details the contributions of crusaders for ecological awareness and an appreciation of the region's natural heritage. These include horticultural writer Wilhelm Miller, who spread the ideals of the Prairie style, and Genevieve Gillette, a landscape architect and conservationist whose preservation efforts led to the establishment of numerous Michigan state parks and wilderness areas.
Midwestern Landscape Architecture fosters a better understanding of how landscape design took shape in the Midwest and how the land itself inspired new solutions to enhance its understated beauty. Despite Olmsted's assessment of the Illinois prairie as "one of the most tiresome landscapes that I ever met with," the Midwest has amassed an important legacy of landscape design that continues to influence how people interact with their environment in the heartland.
About the Author
William H. Tishler is a Fellow in the American Society of Landscape Architects and a professor of landscape architecture at the University of Wisconsin-Madison. He is the editor of American Landscape Architecture: Designers and Places.
Reviews
---
Blurbs
"Tishler has done a tremendous service to his profession and to the general public by assembling many of the best landscape historians in North America as contributors to Midwestern Landscape Architecture. They make history come to life and give personal and historical substance lives to issues that are usually presented only as outlines or lists of chronological facts. This is an excellent text for young, up-and-coming landscape architects."--Robert Scarfo, Washington State University
---