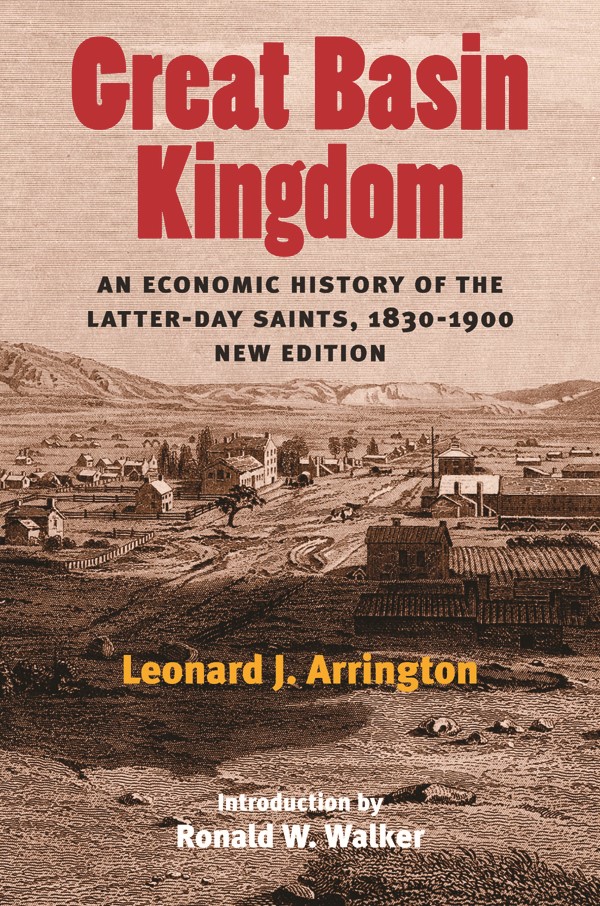 Great Basin Kingdom
An Economic History of the Latter-day Saints, 1830-1900, New Edition
Introduction by Ronald W. Walker
An expansive masterpiece from a renowned historian
Paper – $47
978-0-252-07283-3
Publication Date
Paperback: 01/17/2005
About the Book
Leonard Arrington, who died in 1999, is considered by most, if not all, serious scholars of Mormon and western history as the single most important figure to write on LDS history.
Great Basin Kingdom
is perhaps his greatest work.
A classic in Mormon studies and western history, Great Basin Kingdom offers insights into the 'underdeveloped' American economy, a comprehensive treatment of one of the few native American religious movements, and detailed, exciting stories from little-known phases of Mormon and American history.
This edition includes thirty new photographs and an introduction by Ronald W. Walker that provides a brief biography of Arrington, as well as the history of the work, its place in Mormon and western historiography, and its lasting impact.
About the Author
The late Leonard J. Arrington was Lemuel Redd Professor of Western History at Brigham Young University, LDS Church Historian, director of the LDS Historical Department, and director of the Joseph Fielding Smith Institute of Church History at BYU. A founding member and past president of the Western History Association, he was the author of over twenty books. Ronald W. Walker is a professor of history at Brigham Young University and author of Qualities that Count: Heber J. Grant as Businessman, Missionary, and Apostle andWayward Saints: The Godeites and Brigham Young.
Reviews
"A landmark book."--David Brion Davis, New York Review of Books

"Easily the most informative single volume yet published on the Mormons in Utah. It is economic history written in proper fashion, by an author who never forgets that economic factors cannot be studied in isolation from the prevailing social, intellectual, and political climate."--Rodman W. Paul, Mississippi Valley Historical Review

"Arrington's most important book."--Thomas G. Alexander, Journal of American History

"A masterful account of the politics and practices that enabled Mormons to settle in the hostile environment of the Great Basin."--The Christian Century
---