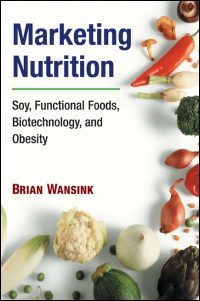 Marketing Nutrition
Soy, Functional Foods, Biotechnology, and Obesity
The ins and outs of the marketing of food
Cloth – $110
978-0-252-02942-4
Paper – $23
978-0-252-07455-4
eBook – $19.95
978-0-252-09279-4
Publication Date: Cloth: 2004; Paper: 2007
About the Book
Although encouraging people to eat more nutritiously can promote better health, most efforts by companies, health professionals, and even parents are disappointingly ineffective. Consumer confusion has lead to floundering sales for soy foods; embarrassing results for expensive Five-a-Day for Better Health programs; and uneaten mountains of vegetables at homes and in school cafeterias. Brian Wansink's
Marketing Nutrition
focuses on why people eat the foods they do, and what can be done to improve their nutrition.
Wansink argues that the true challenge in marketing nutrition lies in leveraging new tools of consumer psychology (which he specifically demonstrates) and by applying lessons from other products' failures and successes. The same tools and insights that have helped make less nutritious products popular also offer the best opportunity to reintroduce a nutritious lifestyle. The key problem with marketing nutrition remains, after all, marketing.
About the Author
Brian Wansink is professor of applied economics of marketing and of nutritional science at Cornell University. He is the director of the Cornell Food and Brand Lab.
Reviews
"Read this book! You will not be able to put it down. You will find yourself nodding in agreement and having countless 'ah-ha' moments when you realize how much you wish this book had been available and required reading for your first nutrition counseling class. . . . This book is a must for everyone wanting to help people be healthier. It should be required reading for all dietetics students and practicing nutrition specialists."--
Today's Dietitian
"Highly recommended."--
Choice
"While this book does not target chefs, per se, any chef interested in nutrition and how consumers build their eating patterns and determine their food choices will be educated by the anecdotes and informational studies."--
National Culinary Review
w
"This extensive, yet succinct, blueprint for effective marketing has something for everyone."--
Gastronomica
---
Blurbs
"With innovative insights, cutting-edge research, and global best practices, Wansink unravels the mysteries of marketing nutrition and provides ingenious ideas to help improve, encourage, and promote a healthier America."--Herb Jackson III, Senior Consultant, The Gallup Organization

"Well-documented and insightful, Marketing Nutrition is an essential read for those involved in marketing new food products to the twenty-first century consumer."--Peter Golbitz, President, Soyatech, Inc.

"It is critical that the U.S. government recognizes that intelligently focused nutrition-related efforts are important in helping lead Americans of all ages to lead healthier lifestyles. Marketing Nutrition shows how simple solutions can save lives."--Congressman Timothy V. Johnson, United States House of Representatives

"Marketing Nutrition offers a 'win-win' proposition for all concerned. Insightful companies, health professionals, and policy makers can lead the way . . . in helping people eat better and enjoy food more."--Dr. James O. Hill, Director of Human Nutrition, University of Colorado Medical School

"Professor Wansink has provided a wealth of insights into why consumers eat and behave the way they do. This valuable book should be read by industry marketing professionals and public policy makers alike."--Dr. Ed McLaughlin, Director, Food Marketing Program, Cornell University

"Marketing Nutrition moves theory and research into practice. There are enormous economic dividends for health care providers, public health institutions, and commercial food companies if we are successful in doing this."--Dr. David Mela, Expertise Group Leader, Unilever Health Institute
---