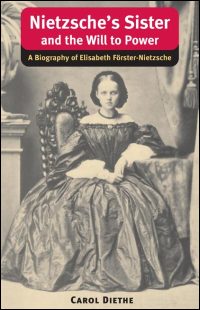 Nietzsche's Sister and the Will to Power
A Biography of Elisabeth Förster-Nietzsche
Elizabeth Förster-Nietzsche's own will to power and its effects on Nietzsche, his life, and his reputation
Paper – $27
978-0-252-07467-7
Publication Date
Paperback: 07/07/2003
About the Book
In 1901, a year after her brother Friedrich's death, Elisabeth Förster-Nietzsche published
The Will to Power,
a hasty compilation of writings he had never intended for print. In
Nietzsche's Sister and the Will to Power,
Carol Diethe contends that Förster-Nietzsche's own will to power and her desire to place herself--not her brother--at the center of cultural life in Germany are centrally responsible for Nietzsche's reputation as a belligerent and proto-Fascist thinker.
Offering a new look at Nietzsche's sister from a feminist perspective, this spirited and erudite biography examines why Elisabeth Förster-Nietzsche recklessly consorted with anti-Semites, from her own husband to Hitler himself, out of convenience and a desire for revenge against a brother whose love for her waned after she caused the collapse of his friendship with Lou Salomé. The book also examines their family dynamics, Nietzsche's dismissal of his sister's early writing career, and the effects of limited education on intelligent women. Diethe concludes by detailing Förster-Nietzsche's brief marriage and her subsequent colonial venture in Paraguay, maintaining that her sporadic anti-Semitism was, like most things in her life, an expedient tool for cultivating personal success and status.
About the Author
Carol Diethe, a former lecturer and research fellow at Middlesex University in London, is a founder of the British Friedrich Nietzsche Foundation. She is the author of Nietzsche's Women: Beyond the Whip, Historical Dictionary of Nietzscheanism, and other books.
Reviews
---
Blurbs
"Carol Diethe's pleasantly written biography is a valuable contribution for all interested in Nietzsche studies."--Alexandre Kostka, Université Cergy-Pontoise and Centre Marc Bloch, Berlin

"A pleasure to read. Diethe corrects the superficiality that has characterized prior treatment of Elisabeth Förster-Nietzsche, offering a nuanced explanation of her perspective and motivations and in turn illuminating hitherto underexamined aspects of the life, work, and psychology of Nietzsche himself."--Kathleen Higgins, author of Comic Relief, Nietzsche's Gay Science
---