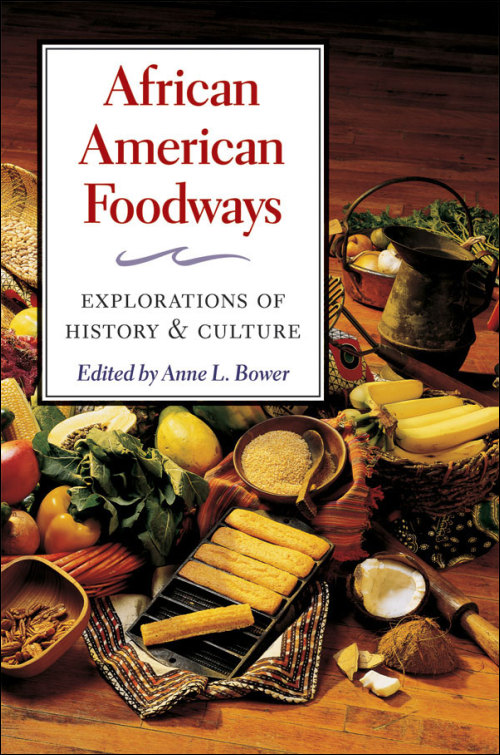 African American Foodways
Explorations of History and Culture
Moving beyond catfish and collard greens to the soul of African American cooking
Paper – $23
978-0-252-07630-5
Publication Date
Paperback: 01/12/2009
About the Book
Ranging from seventeenth-century West African fare to contemporary fusion dishes using soul food ingredients, the essays in this book provide an introduction to many aspects of African American foodways and an antidote to popular misconceptions about soul food. Examining the combination of African, Caribbean, and South American traditions, the volume's contributors offer lively insights from history, literature, sociology, anthropology, and African American studies to demonstrate how food's material and symbolic values have contributed to African Americans' identity for centuries. Individual chapters examine how African foodways survived the passage into slavery, cultural meanings associated with African American foodways, and the contents of African American cookbooks, both early and recent.
Contributors are Anne L. Bower, Robert L. Hall, William C. Whit, Psyche Williams-Forson, Doris Witt, Anne Yentsch, Rafia Zafar.
About the Author
Anne L. Bower, retired from the English department of the Ohio State University-Marion, is the editor of, and a contributor to, Recipes for Reading: Community Cookbooks, Stories, Histories and serves on the editorial board of Food and Foodways.
Reviews
"An exquisite mélange of American and black history; famous black Americans and people they served; allusions to jazz, poetry, rap, stories, and literature; and food traditions make up this credible, readable book. . . . Recommended."--
Choice
"This fascinating book reveals a little-known history and ties it to present-day values. It is well written and accessible to a general audience, for whom it is highly recommended."--
Multicultural Review
"
African American Foodways: Exploration of History & Culture
is a must read for anyone interested in the influence of history and culture on how foods are produced, collected, stored, prepared, and consumed. It is an excellent resource for those interested in food and its connection to identity and will be an absolute delight for anyone who may have thought the tern 'soul food' was inclusive of the many meanings attached to food by African Americans and others."--
Journal of Family & Consumer Sciences
"Anne L. Bower has compiled a very tasty collection of essays into which the historian or food lover can really sink his teeth. . . . The essays provide an expansive and interdisciplinary view of African American culinary history as well as insight into the current trends in what is more generally known as 'soul food.'"--
Southern Historian
"A quick and enjoyable read that is informative about the relationships between food, culture, and defining moments in world, southern, and African American history."--
The Journal of Southern History
---
Blurbs
"Bower's reputation in the study of African American foodways is already very significant, and this achievement will only add to it. With subjects ranging from soul food to cookbooks, the writers in this volume will change our thinking about African American food and culture."--Sherrie A. Inness, author of Secret Ingredients: Race, Gender, and Class at the Dinner Table
---