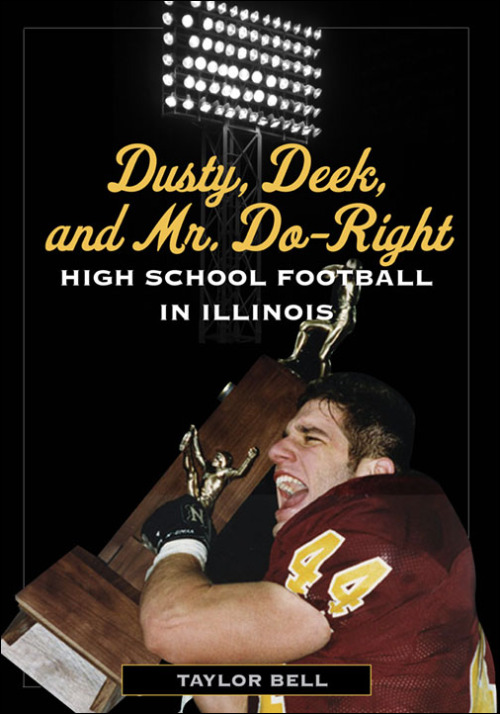 Dusty, Deek, and Mr. Do-Right
High School Football in Illinois
A colorful history of high school football in Illinois
Paper – $22.95
978-0-252-07731-9
eBook – $14.95
978-0-252-09003-5
Publication Date
Paperback: 08/23/2010
About the Book
From small towns like Metamora, Aledo, and Carthage to East St. Louis and Chicago's South Side, Illinois's high school football fields have been the proving ground for such future stars as Dick Butkus, Red Grange, and Otto Graham. In
Dusty, Deek, and Mr. Do-Right,
longtime fan and sportswriter Taylor Bell shares the stories of the greatest players, toughest coaches, most memorable games, and fiercest rivalries in Illinois history. Drawing on dozens of personal interviews, Bell profiles memorable figures such as Tuscola's record-setting quarterback Dusty Burk, Pittsfield's brutally demanding yet devoted Coach Donald "Deek" Pollard, and Evanston's Murney "Mr. Do-Right" Lazier, who coached sternly but without prejudice in the racially charged 1960s and '70s. The book also discusses winning programs at schools such as East St. Louis, Mount Carmel, and Joliet Catholic, as well as long-standing rivalries and memorable games in the state playoff and Prep Bowl.
The ultimate book for high school football fans in Illinois, Dusty, Deek, and Mr. Do-Right is infused with Bell's own love for the game and illustrated with sixty photographs of the players and coaches who made lifetime memories under the Friday night lights.
Reviews
"Bell has given the Illinois high school football fan a wonderful chance to learn more about their stories and many others."--
Daily Herald
"Bell captures the emotion of the players, coaches, and games."--
Journal Gazette-Times Courier
---
Blurbs
"This is the Illinois high school football bible. If somebody knows more about the topic than Taylor Bell, I don't know who it is. Actually, I do. Nobody."--Rick Telander, senior sports columnist, Chicago Sun-Times

"Taylor Bell's expertise in high school sports in Illinois is second to none. He has a great perspective, in that he loves the integrity and character of what high school sports is all about."--Don Beebe, head football coach, Aurora Christian High School, and former NFL player

"A remarkable collection of significant memories of players, coaches, programs, teams, and special games presented in a most enjoyable manner. A must read for high school football enthusiasts."--Gary Korhonen, retired head football coach, Richards High School

"What a wonderful and enlightening read! Once I began reading, it was difficult to put this book down. Taylor Bell has really struck pay dirt with this book."--Frank Lenti, athletic director and head football coach, Mount Carmel High School, Chicago
---