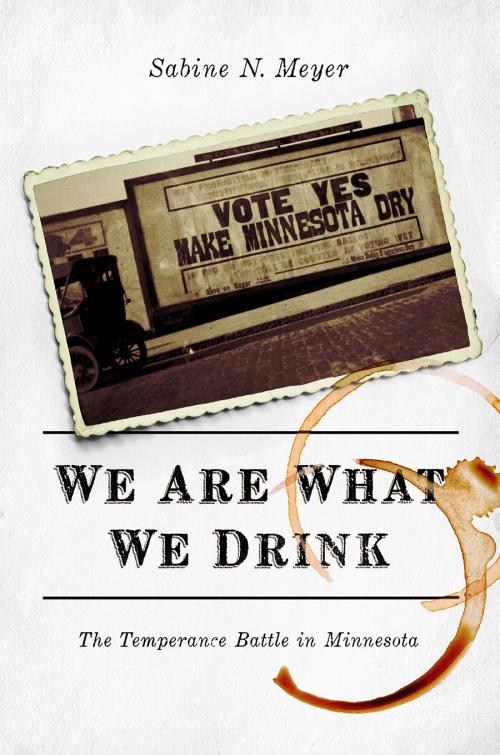 We Are What We Drink
The Temperance Battle in Minnesota
Identity formation and the power of place in the shaping of history
Paper – $28
978-0-252-08350-1
eBook – $19.95
978-0-252-09740-9
Publication Date
Paperback: 02/26/2018
Cloth: 07/27/2015
About the Book
Ambitious and revelatory,
We Are What We Drink
tells a close-grained story about the ways alcohol consumption connected to identity in the upper Midwest.
Sabine N. Meyer examines the ever-shifting ways that ethnicity, gender, class, religion, and place interacted with each other during Minnesota's bitter temperance battle. Her deconstruction of Irish and German ethnic positioning provides a rare interethnic history of the temperance movement. At the same time, she restores the neglected link between female temperance and suffrage activism while showing how women engaged in temperance work as a way to form a public identity. She also gives a nuanced portrait of the culture clash between comparatively reform-minded Minneapolis and dynamic anti-temperance forces in whiskey-soaked St. Paul—forces supported by government, community, and business institutions heavily invested in keeping the city wet.
About the Author
Sabine N. Meyer is "Privatdozentin" at the Institute of British and American Studies at the University of Osnabrück, Germany.
Reviews
"A major contribution to temperance and ethnic history. . . . Meyer combines theoretical awareness with massive archival research. Her chief interest is identity. She is critical of earlier temperance histories that describe a moral crusade by Protestant, middle-class, Anglo-Americans and privilege class and religion at the expense of ethnicity, gender, and place. Her local study offers a corrective. Recommended."--
Choice
"Meyer performed extensive research in the archives of many of the temperance organizations, government records, and contemporary newspapers and other publications. . . . Meyer blends clear explanations with well-chosen examples to show how the world the German brewers knew was changing. . . . A compelling case that food and drink is an important subject for historical analysis, and it is a cultural expression just s significant as any other."--
American Breweriana Journal
"Sabine Meyer's
We Are What We Drink: The Temperance Battle in Minnesota
challenges this surface understanding of the era, and evaluates the temperance movement as a social movement that resulted in American identity formation and reconfiguration. . . . Any scholar of American social movements, social history, or culture studies will find this book essential reading."--
Journalism History
"An exquisite case study deeply researched in local sources, Meyer's book shows that Prohibition in Minnesota came about due to a perfect storm in which drys exploited ethnic, gender, religious and class tensions to impose their policy upon the entire state."--
Pacific Historical Review
"A major contribution to temperance and ethnic history."--
Journal of American Ethnic History
"[Sabine N. Meyer] offers a fresh perspective that describes the temperance movement as a struggle among competing groups with distinct identities based on civic loyalty, religious affiliation, ethnicity, and different conceptions of women's roles. . . . A remarkable accomplishment by a young scholar who brings empathy and a clear-eyed analysis to a distinctly American phenomenon."--
American Historical Review
"A fascinating volume that explores temperance through multiple lenses of ethnicity, gender, class, religion, and place."--
Minnesota History
"Extraordinarily well-sourced. . . . Prohibition's cultural underpinnings have rarely been so thoroughly examined . . . . This is a detailed, thoughtful exploration of the complex relations within and between ethnicities, made more nuanced by an examination of gender and changing female societal expectations. "--
Middle West Review
"Interesting and well-documented."--
Journal of American History
"A nuanced examination of the campaign to ban alcohol in early Minnesota. . . . Sabine extensively cites a rich temperance literature yet charts her own course in explaining dry success and wet failures in Minnesota."--
The Annals of Iowa
---
Blurbs
"Long have we chanted the trinity of race, class, and gender, but only a few scholars have been able to pull off studies that integrate these issues. Meyer, more than almost anyone I can think of, genuinely succeeds. A major contribution, not only to the history of the temperance movement, but to the histories of Irish and German Americans, to the history of women's movements, and to the interpenetrating history of ethnicity, class, gender, and identity."--Paul Spickard, author of Race and Nation: Ethnic Systems in the Modern World

"A thoughtful and balanced account. Meyer shows the complexities of ethnicity and the use of temperance and anti-temperance as motifs around which cultural agendas were arranged."--Ian Tyrrell, author of Reforming the World: The Creation of America's Moral Empire

"In We Are What We Drink, Sabine Meyer has brewed a heady mix of social and cultural history that will be sure to grace the bookshelves of historians, sociologists, anthropologists and other scholars who are keen to embrace multidisciplinary approaches to our past. This masterfully researched and argued book is broad in scholarly design but deep in its examination of over a hundred years of the temperance movement in one Midwestern American city. It deftly considers developments in class, gender, ethnicity, and locality in Minnesota as it investigates the social, economic, political and cultural topography of St. Paul's struggles over alcohol and identity. The most enduring impact of this case study will be in its detailed and persuasive analysis of inter-ethnic relations among working and middle-class Irish and German Americans, who in support or in opposition to temperance crafted their own identities through contests over class, power and place in a transforming America. This book is a milestone in the history of social movements and local and regional identities in the U.S."--Thomas M. Wilson, editor of Drinking Cultures: Alcohol and Identity
---