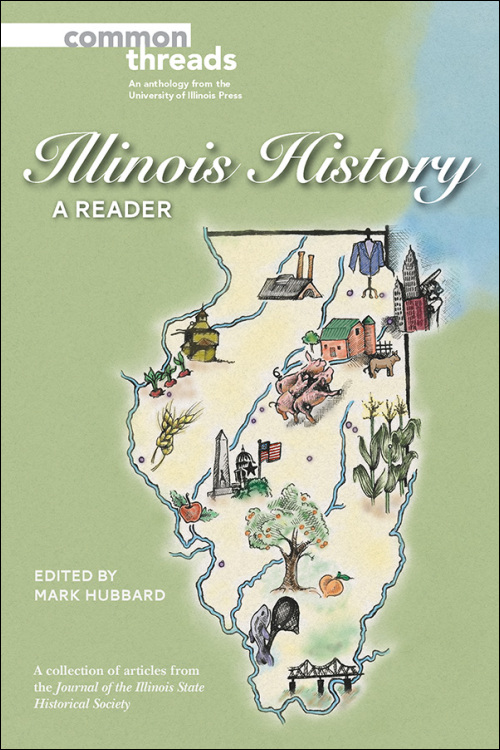 Illinois History
A Reader
A collection of articles from the Journal of the Illinois State Historical Society
Fascinating and foundational topics in state history
Paper – $25
978-0-252-08364-8
eBook – $9.95
978-0-252-05068-8
Publication Date
Paperback: 06/18/2018
About the Book
A renaissance in Illinois history scholarship has sparked renewed interest in the Prairie State's storied past. Students, meanwhile, continue to pursue coursework in Illinois history to fulfill degree requirements and for their own edification.
This Common Threads collection offers important articles from the Journal of the Illinois State Historical Society. Organized as an approachable survey of state history, the book offers chapters that cover the colonial era, early statehood, the Civil War years, the Gilded Age and Progressive eras, World War II, and postwar Illinois. The essays reflect the wide range of experiences lived by Illinoisans engaging in causes like temperance and women's struggle for a shorter workday; facing challenges that range from the rise of street gangs to Decatur's urban decline; and navigating historic issues like the 1822-24 constitutional crisis and the Alton School Case.
Contributors: Roger Biles, Lilia Fernandez, Paul Finkelman, Raymond E. Hauser, Reginald Horsman, Suellen Hoy, Judson Jeffries, Lionel Kimble Jr., Thomas E. Pegram, Shirley Portwood, Robert D. Sampson, Ronald E. Shaw, and Robert M. Sutton.
About the Author
Mark Hubbard is a professor of history at Eastern Illinois University and editor-in-chief of the Journal of the Illinois State Historical Society. He is the author of Illinois's War: The Civil War in Documents and Beyond Party: Cultures of Antipartisanship in Northern Politics before the Civil War.
Reviews
"Mark Hubbard has succeeded in organizing a collection that is thematically coherent, informative, and interesting. Any scholar of Illinois history would profit from reading this fine work." --The Annals of Iowa

"For those seeking glimpses of how our state came to be the way it is, this book of 304 pages is a useful beginning." --Springhouse
---