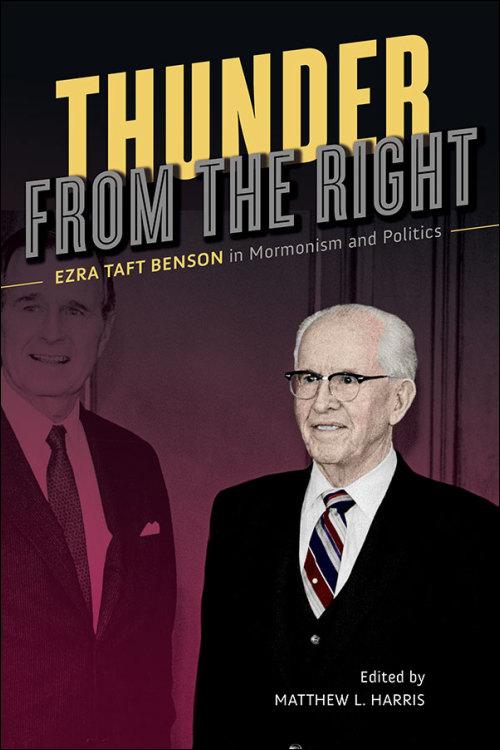 Thunder from the Right
Ezra Taft Benson in Mormonism and Politics
Controversy, conservatism, and conspiracy in the life of a Mormon leader
Cloth – $110
978-0-252-04225-6
Paper – $27.95
978-0-252-08401-0
eBook – $14.95
978-0-252-05108-1
Publication Date
Paperback: 03/04/2019
Cloth: 03/04/2019
About the Book
Ezra Taft Benson's ultra-conservative vision made him one of the most polarizing leaders in the history of the Church of Jesus Christ of Latter-day Saints. His willingness to mix religion with extreme right-wing politics troubled many. Yet his fierce defense of the traditional family, unabashed love of country, and deep knowledge of the faith endeared him to millions.
In Thunder from the Right, a group of veteran Mormon scholars probes aspects of Benson's extraordinary life. Topics include how Benson's views influenced his actions as Secretary of Agriculture in the Eisenhower administration; his dedication to the conservative movement, from alliances with Barry Goldwater and the John Birch Society to his condemnation of the civil rights movement as a communist front; how his concept of the principle of free agency became central to Mormon theology; his advocacy of traditional gender roles as a counterbalance to liberalism; and the events and implications of Benson's term as Church president.
Contributors: Gary James Bergera, Matthew Bowman, Newell G. Bringhurst, Brian Q. Cannon, Robert A. Goldberg, Matthew L. Harris, J. B. Haws, and Andrea G. Radke-Moss.
About the Author
Matthew L. Harris is a professor of history at Colorado State University-Pueblo. He is the author of The Founding Fathers and the Debate over Religion in Revolutionary America.
Reviews
"
Thunder From the Right
is an outstanding book by an excellent group of scholars who have written a collection of essays that will amaze, fascinate, inform and probably trouble you." --
Association of Mormon Letters
"This volume provides an important overview of Benson's public life and legacy. The contributors are respected, serious scholars. Highly recommended." --
Choice
"An impressive and thought-provoking volume.
Thunder from the Right
delivers on its promise to 'offer a fresh and stimulating retrospective assessment of Ezra Taft Benson's life and legacy.' The book illuminates the significant relationship between the Mormon faith and the rise of the New Right in the United States, adding considerably to our understanding of the role of religion in shaping Cold War domestic politics." --
Mormon Studies Review
"As a towering figure of midcentury anti-Communist activism, Benson stands at the center of these emerging epistemological circuits--a surprising, improbable, and perversely delightful payoff to the satisfying and multifaceted collection." --
Journal of Mormon History
---
Blurbs
"Thunder from the Right is a fascinating volume on the life, political career, and ministry of the most famous Mormon in politics prior to Mitt Romney, as well as on the inner workings of the LDS Church during the apostleship and presidency of Ezra Taft Benson. Matthew Harris and the other contributors have constructed a detailed look at an LDS Church official who freely blended politics and religion and helped set the LDS Church and its membership on a course of political conservatism that it only now is moving away from. This is a must read for LDS scholars and lay audiences who want to understand both how one church leader sought to place his stamp on LDS political views and how fellow church leaders and members at the time were leery of being defined by the extremist worldview of Ezra Taft Benson."--Richard Davis, Brigham Young University

"The essays in this book help to flesh out the life and character of one the most influential and controversial Mormon leaders of the twentieth century. In doing so they make an important contribution to a too often neglected period in Latter-day Saint history."--Nathan B. Oman, author of The Dignity of Commerce: Markets and the Moral Foundations of Contract Law
---