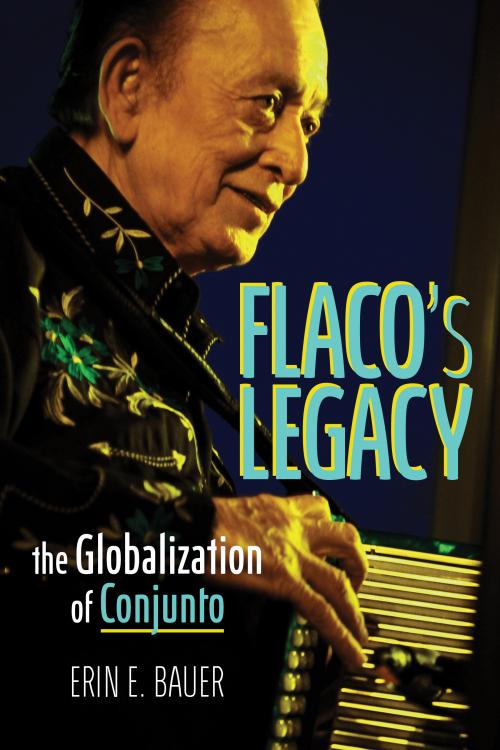 Flaco's Legacy
The Globalization of Conjunto
Charting the worldwide expansion of a regional music genre
Cloth – $110
978-0-252-04502-8
Paper – $30
978-0-252-08715-8
eBook – $19.95
978-0-252-05429-7
Publication Date
Paperback: 05/23/2023
Cloth: 05/23/2023
About the Book
A combination of button accordion and bajo sexto, conjunto originated in the Texas-Mexico borderlands as a popular dance music and became a powerful form of regional identity. Today, listeners and musicians around the world have embraced the genre and the work of conjunto masters like Flaco Jiménez and Mingo Saldívar.
Erin E. Bauer follows conjunto from its local origins through three processes of globalization--migration via media, hybridization, and appropriation--that boosted the music's reach. As Bauer shows, conjunto's encounter with globalizing forces raises fundamental questions. What is conjunto stylistically and socioculturally? Does context change how we categorize it? Do we consider the music to be conjunto based on its musical characteristics or due to its performance by Jiménez and other regional players? How do similar local genres like Tejano and norteño relate to ideas of categorization?
A rare look at a fascinating musical phenomenon, Flaco's Legacy reveals how conjunto came to encompass new people, places, and styles.
* This publication was funded in part by grants from the University of Wisconsin Whitewater and from the AMS 75 PAYS Fund of the American Musicological Society, supported in part by the National Endowment for the Humanities and the Andrew W. Mellon Foundation.
About the Author
Erin E. Bauer is chair of the Music Department and an associate professor of musicology at Muskingum University.
---