This August marked the 400th anniversary of slaves arriving in America. To commemorate the anniversary, The New York Times Magazine launched the 1619 Project, a major initiative led by Nikole Hannah-Jones, with the goal of re-framing our understanding of the impact of slavery and recognizing the contributions of Black Americans to American democracy.  The initiative has included a special issue of the magazine, podcasts, special events, a curriculum designed by the Pulitzer Center and more. Inspired by the 1619 Project, we've put together five lists of our publications related to the project on Black women's activism, popular music, mass incarceration and lynching, sports and racism, and slavery, racism, and politics. As the year closes and a new decade beckons, we invite you to explore these lists alongside the 1619 Project and consider how we can use this important scholarship to move forward as a nation towards an antiracist future.
Black Popular Music Reading List
Spirituals
and the Birth of a Black Entertainment Industry
By Sandra Jean Graham
First brought to the stage by choral ensembles like the Fisk Jubilee Singers, spirituals anchored a wide range of late nineteenth-century entertainments, including minstrelsy, variety, and plays by both black and white companies. Graham navigates the conflicting agendas of those who, in adapting spirituals for their own ends, sold conceptions of racial identity to their patrons.
Jazz Internationalism: Literary Afro-Modernism and the Cultural Politics of Black Music
By John Lowney
Jazz emerged during the political and social upheaval of world war, communist revolution, Red Scares, and the Black Migration. Jazz Internationalism offers a bold reconsideration of jazz's influence in Afro-modernist literature. Lowney examines how Claude McKay, Ann Petry, Langston Hughes, and many other writers employed jazz as both a critical social discourse and mode of artistic expression to explore the possibilities—and challenges—of black internationalism.
McKinney's Cotton Pickers and the "Unseen Audience": Constructing Blackness on the Radio
By Alyssa Mehnert
Menhert dissects the impact of the McKinney's Cotton Pickers, a black dance band, who were known for their well-rehearsed performances of dance music, such as fox-trots and waltzes, as well as its "hot" soloists, blues compositions, and syncopated ensemble writing.
"He's Calling His Flock Now": Black Music and Postcoloniality from Buddy Bolden's New Orleans to Sefyu's Paris
By J. Griffith Rollefson
Rollefson performs an excavation of Bolden's "en noir et blanc" to explore  colonizer/colonized aesthetics intermingling in postcolonial pop music.
Blues Legacy: Tradition and Innovation in Chicago
By David Whiteis
Chicago blues continues to provide a soundtrack to, and a dynamic commentary on, the African American experience: the legacy of slavery; historic promises and betrayals; opportunity and disenfranchisement; the ongoing struggle for freedom.David Whiteis delves into how the current and upcoming Chicago blues generations carry on this legacy.
The Heart of a Woman: The Life and Music of Florence B. Price
By Rae Linda Brown
The Heart of a Woman offers the first-ever biography of Florence B. Price, a composer whose career spanned both the Harlem and Chicago Renaissances, and the first African American woman to gain national recognition for her works. Brown traces the life of the extremely private individual from her childhood in Little Rock through her time at the New England Conservatory, her extensive teaching, and her struggles with racism, poverty, and professional jealousies.
Dancing Revolution: Bodies, Space, and Sound in American Cultural History
By Christopher J. Smith
Throughout American history, patterns of political intent and impact have linked the wide range of dance movements performed in public places. Smith presents richly diverse case studies to illuminate these patterns of movement and influence in movement and sound in the history of American public life. Multidisciplinary and wide-ranging, Dancing Revolution examines how Americans turned the rhythms of history into the movement behind the movements.
Questions of Genre in Black Popular Music
By David Brackett
What makes black popular music "black"? Brackett delves into the history of black music and the apparent connection between race and taste.
This House, This Music: Exploring the Interdependent Interpretive Relationship between the Contemporary Black Church and Contemporary Gospel Music
By Melinda E. Weekes
Weekes explores two sociological phenomena that have impacted the development of contemporary gospel music: integration and secularization.
Black Opera: History, Power, Engagement
By Naomi André
From classic films like Carmen Jones to contemporary works like The Diary of Sally Hemings and U-Carmen eKhayelitsa, American and South African artists and composers have used opera to reclaim black people's place in history. Interacting with creators and performers, as well as with the works themselves, André reveals how black opera unearths suppressed truths. These truths provoke complex, if uncomfortable, reconsideration of racial, gender, sexual, and other oppressive ideologies.
A City Called Heaven: Chicago and the Birth of Gospel Music
By Robert M. Marovich
Marovich follows gospel music from early hymns and camp meetings through its growth into the sanctified soundtrack of the city's mainline black Protestant churches. He also examines the entrepreneurial spirit that fueled gospel music's rise to popularity and granted social mobility to a number of its practitioners. As Marovich shows, the music expressed a yearning for freedom from earthly pains, racial prejudice, and life's hardships. Yet it also helped give voice to a people–and lift a nation.
Edited by Naomi André, Karen M. Bryan, and Eric Saylor
Blackness in Opera critically examines the intersections of race and music in the multifaceted genre of opera.  The volume brings a wide-ranging, theoretically informed, interdisciplinary approach to questions about how blackness has been represented in these operas, issues surrounding characterization of blacks, interpretation of racialized roles by blacks and whites, controversies over race in the theatre and the use of blackface, and extensions of blackness along the spectrum from grand opera to musical theatre and film.
"The Ace of His Race": Paul Whiteman's Early Critical Reception in the Black Press
By Christopher J. Wells
As a prominent and wildly successful white jazz musician, Whiteman played a controversial role in the jazz community. Wells examines discussions surrounding Whiteman in the black press to highlight the range of opinions black writers held regarding Whiteman's music.
The Creolization of American Culture: William Sidney Mount and the Roots of Blackface Minstrelsy
By Christopher J. Smith
The Creolization of American Culture examines the artworks, letters, sketchbooks, music collection, and biography of the painter William Sidney Mount as a lens through which to see the antebellum world that gave birth to minstrelsy. Reading Mount's renderings of black and white musicians against a background of historical sites and practices of cross-racial interaction, Smith offers a sophisticated reinterpretation of minstrelsy, significantly broadening historical views of black-white musical exchange.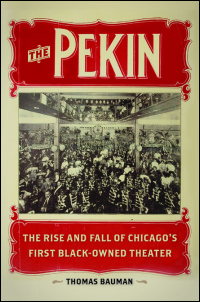 The Pekin: The Rise and Fall of Chicago's First Black-Owned Theater
By Thomas Bauman
Dubbed the "Temple of Music," the Pekin became one of the country's most prestigious African American cultural institutions, renowned for its all-black stock company and school for actors, an orchestra able to play ragtime and opera with equal brilliance, and a repertoire of original musical comedies. A missing chapter in African American theatrical history, Bauman's saga presents how political operator and gambling boss Robert T. Motts used his entrepreneurial acumen to create a successful black-owned enterprise.
Ring Shout, Wheel About: The Racial Politics of Music and Dance in North American Slavery
By Katrina Dyonne Thompson
Thompson examines the conceptualization and staging of race through the performance, sometimes coerced, of black dance from the slave ship to the minstrel stage. She shows how these performances informed white European and American understandings of race, influenced interactions between whites and blacks, and often held conflicting meanings in enslaved people's lives.
The Muse is Music: Jazz Poetry from the Harlem Renaissance to Spoken Word
By Meta DuEwa Jones
This wide-ranging, ambitiously interdisciplinary study traces jazz's influence on African American poetry from the Harlem Renaissance to contemporary spoken word poetry. Jones highlights the intersections of race, gender, and sexuality within the jazz tradition and its representation in poetry. Applying prosodic analysis to emphasize the musicality of African American poetic performance, she examines the gendered meanings evident in collaborative performances and in the criticism, images, and sounds circulating within jazz cultures.
 What It Do, Shorty?: Women, Hip-Hop, and a Feminist Agenda
By Gwendolyn D. Pough
This essay examines spaces within hip-hop culture where hip-hop feminist thought and activism might make significant interventions. The essay is not concerned with hard-and-fast answers to the combination of feminism and hip-hop but rather with what hip-hop feminism might add to current conversations surrounding race, class, gender, and sexuality.
Island Gospel: Pentecostal Music and Identity in Jamaica and the United States
By Melvin L. Butler
Pentecostals throughout Jamaica use music to declare what they believe and where they stand in relation to religious and cultural outsiders. Butler explores what happens when secular music forms like ska, reggae, and dancehall force Pentecostals to reconcile their religious and cultural identities.
From Jim Crow to Jay-Z: Race, Rap, and the Performance of Masculinity
By Miles White
From Jim Crow to Jay-Z traces black male representations to chattel slavery and American minstrelsy as early examples of fetishization and commodification of black male subjectivity.  Arguing that black music has undeniably shaped American popular culture and that hip-hop tropes have exerted a defining influence on young male aspirations and behavior, White draws a critical link between the body, musical sound, and the construction of identity.
Make sure to check out previous lists on Black women's activism, slavery, racism, and politics, mass incarceration and lynching, and sports and racism. You can find all the lists here.