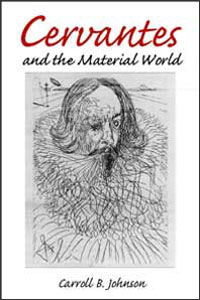 Cervantes and the Material World
In this first volume in the new HISPANISMS series, Johnson illuminates Cervantes' Don Quixote on the side of materialism--in contrast to the highly idealistic perspective one usually takes of the knight-errant and his adventures.
Cloth – $51
978-0-252-02548-8
Publication Date
Cloth: 01/01/2000
About the Book
In this innovative revisiting of
Don Quixote and the Novelas ejemplares
, Carroll B. Johnson investigates in detail the cultural and material environment in which Cervantes placed his characters.
Cervantes and the Material World reveals a recurrent preoccupation with the clash of two different economic systems: a reenergized feudalism and an incipient capitalism. Overturning the common assumption that Don Quixote, Sancho Panza, and myriad other colorful characters carry out their adventures in a timeless social milieu, Johnson demonstrates how their perspectives and experiences are shaped by the events and crises of their immediate historical context.
Johnson examines how questions of the distribution of wealth, the ownership of the means of production, and membership in one or another economic order permeate Cervantes's fiction. Thoughtfully contextualizing key excerpts, he suggests how business activities, legal codes, and other materialist practices actively impinge on the lives of the characters, influencing and in some cases determining their motivations and their possibilities for action.
A major study that will change the face of Cervantes scholarship, Cervantes and the Material World is also an important resource for students of the Spanish Golden Age and Renaissance and baroque literature and culture.
Reviews
"Presents a refreshing and different approach to Cervantes' world of fiction. . . . Cervantes' characters deal with their often precarious circumstances through the various socioeconomic exchanges that make them renounce the old world order in favor of a new world order. Johnson's is indeed a work on Cervantes that will aid Cervantistas and Hispanists in general to better understand the historical circumstances of Cervantes' time." -- Patricial Vilches, Sixteenth Century Journal
---