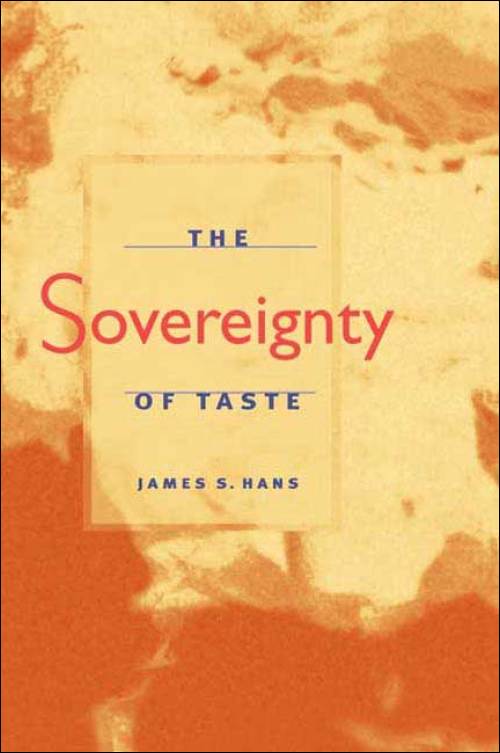 The Sovereignty of Taste
eBook – $14.95
978-0-252-09328-9
Publication Date
Cloth: 01/01/2002
About the Book
Challenging prevailing trends toward aesthetic neutrality, James S. Hans argues that there is such a thing as good and bad taste, that taste is something one is born with, and that it is firmly rooted in the mechanics of biology.
Taste is everything, Hans says, for it produces the primary values that guide our lives. Taste is the fundamental organizing mechanism of human bodies, a lifelong effort to fit one's own rhythms to the rhythms and patterns of the natural world and the larger human community. It is an aesthetic sorting process by which one determines what belongs in--a conversation, a curriculum, a committee, a piece of art, a meal, a logical argument--and what should be left out. On the one hand, taste is the source of beauty, justice, and a sense of the good. On the other hand, as an arbiter of the laws of fair and free play, taste enters into more ominous and destructive patterns--but patterns nonetheless--of resentment and violence.
Hans develops his conception of taste through astute readings of five literary landmarks: Milan Kundera's The Unbearable Lightness of Being, Sophocles' Oedipus the King, William Faulkner's Light in August, and the poetry of Emily Dickinson and the Polish Nobel Laureate Czeslaw Milosz. These texts explore the art of soulmaking and the quest for personal expression: the costs as well as the fruits that come from acceding to the imperatives of one's being. They also reveal how the collision of personal and collective rhythms, whether in the Greek citadel or the Mississippi countryside, leads to violence and ritualized sacrifice.
Elegant, principled, and provocative, The Sovereignty of Taste is an essential book that restores taste to its rightful place of influence, shoring up the ground beneath civilization's feet and offering hope for the future of integrity, value, and aesthetic truth.
---