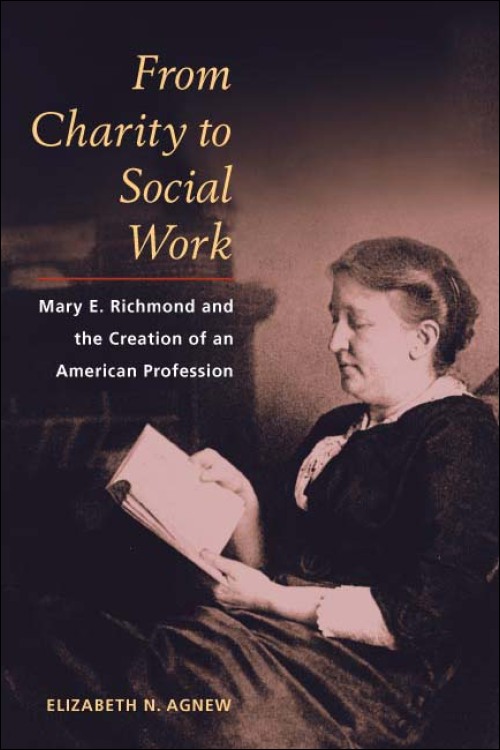 From Charity to Social Work
Mary E. Richmond and the Creation of an American Profession
Examination of the development of modern social work from its roots in late 19th Century charity through the 1920's, focusing on the life and leadership of Mary E. Richmond. Highlights the important role of charity organization philosophy in the transformation from voluntary charity to professional social work.
Cloth – $42
978-0-252-02875-5
Publication Date
Cloth: 01/12/2004
About the Book
Mary E. Richmond (1861-1928) was a contemporary of Jane Addams and an influential leader in the American charity organization movement. In this biography--the first in-depth study of Richmond's life and work--Elizabeth N. Agnew examines the contributions of this important, if hitherto under-valued, woman to the field of charity and to its development into professional social work.
Orphaned at a young age and largely self-educated, Richmond initially entered charity work as a means of self-support, but came to play a vital role in transforming philanthropy--previously seen as a voluntary expression of individual altruism--into a valid, organized profession. Her career took her from charity organization leadership in Baltimore and Philadelphia to an executive position with the prestigious Russell Sage Foundation in New York City.
Richmond's progressive civic philosophy of social work was largely informed by the social gospel movement. She strove to find practical applications of the teachings of Christianity in response to the social problems that accompanied rapid industrialization, urbanization, and poverty. At the same time, her tireless efforts and personal example as a woman created an appealing, if ambiguous, path for other professional women. A century later her legacy continues to echo in social work and welfare reform.
Reviews
---
Blurbs
"Elizabeth Agnew is a wonderful stylist, and in this stimulating work she examines the life of a woman who at every turn defied the traditional stereotype of the charity worker. A significant contribution to the history of social work."--Susan Curtis, author of A Consuming Faith: The Social Gospel and Modern American Culture
Awards
A Choice Outstanding Academic Title, 2005.
---