The Flowers of Tarbes
or, Terror in Literature
Translated from the French and with an introduction by Michael Syrotinski
Paulhan's seminal work in English for the first time
Cloth – $39
978-0-252-03019-2
Publication Date
Cloth: 02/13/2006
About the Book
Les Fleurs de Tarbes, ou la terreur dans les lettres,
first published as a single volume in 1941, was considered by Jean Paulhan to be the furthest-reaching expression of his thinking about literature and language. It is now recognized as a landmark text in the history of twentieth century literary criticism and in the emergence of contemporary literary theory. This is the first time it has been translated into English.
The playful tone and quirky, casual style of Paulhan's writing mask a theoretical intent and seriousness of purpose that are extraordinarily prescient. In The Flowers of Tarbes Paulhan probes the relationship between language, meaning, context, intention and action with unremitting tenacity, and in so doing produces a major treatise on the nature of the literary act, and a meditation on what we might now call the responsibility or ethical imperative of literature itself.
About the Author
Jean Paulhan
(1884-1968) is often referred to as the "grey eminence" of the publishing world in France, where he played a central role in literary and intellectual life. He was editor of the
Nouvelle Revue française
from 1925-1940, and under him it became the most influential literary journal of interwar France.
Michael Syrontinski
is a professor of French at the University of Aberdeen, Scotland. He previously co-translated Paulhan's
Progress in Love on the Slow Side, a collection of short narrative fiction.
---
Also by this author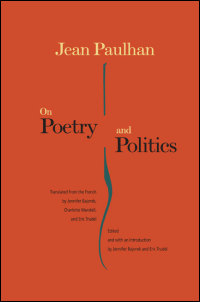 Reviews
---
Blurbs
"One of the most important works of contemporary literary criticism."--Maurice Blanchot
---