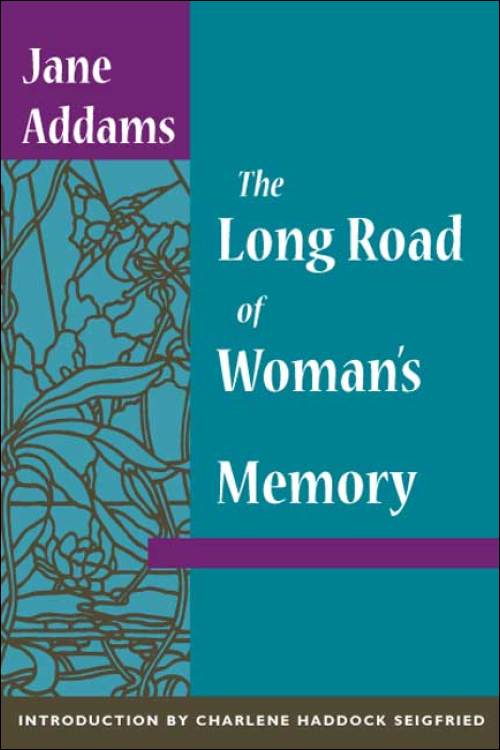 The Long Road of Woman's Memory
Introduction by Charlene Haddock Seigfried
Paper – $19
978-0-252-07024-2
eBook – $19.95
978-0-252-09557-3
Publication Date
Paperback: 01/01/2001
About the Book
Wild rumors of a Devil Baby--a child who has miniature horns and a forked tail and appears in retribution for a husband's cruelty--at Hull-House brought a flood of curiosity-seekers to Jane Addams's door. To her surprise, many of the most adamant about seeing the Devil Baby were older, working-class, immigrant women.
These women, usually rather withdrawn from the community, seemed to spring to life in response to this apocryphal story--and to be inspired to tell stories of their own. The tales they shared with Addams in the wake of the Devil Baby were more personal and revealing than any they had previously told her: stories of abusive mates, lost or neglectful children, and endless, ill-paid menial labor endured on behalf of loved ones. In response to these sometimes wrenching conversations, Addams wrote The Long Road of Woman's Memory, an extended musing on the role of memory and myth in women's lives.
As Addams records the difficult recollections of these women she ponders the transformation of their experiences--so debilitating and full of anguish--into memories devoid of rancor and pain. She explores the catalytic function of cautionary tales in reviving older women's sense of agency. Through moving conversations with women who had lost sons on the battlefield, she emphasizes the importance of voicing a female perspective on war. The women's stories, graphically depicting the conditions in which they lived and labored and the purposefulness that sustained them, are gracefully woven together with Addams's insights on the functioning and purpose of memory.
Seen in the context of Addams's personal connection with these diverse women and their stories, her larger efforts to bring about equity and social justice appear all the more courageous and vital. Charlene Haddock Seigfried's new introduction sets Addams's observations in the context of pragmatist and feminist traditions.
---