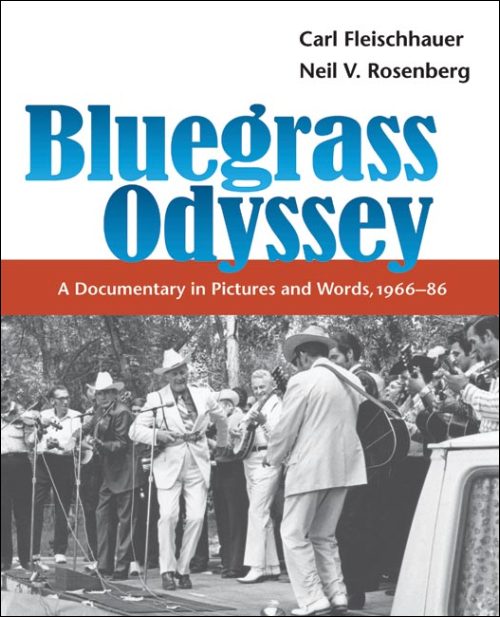 Bluegrass Odyssey
A Documentary in Pictures and Words, 1966-86
Revealing bluegrass music and culture through photographs and commentary
Paper – $29.95
978-0-252-07400-4
Publication Date
Paperback: 01/01/2007
About the Book
The fruit of four decades of collaboration between bluegrass music's premier photographer and premier historian,
Bluegrass Odyssey
is a satisfying and visually alluring journey into the heart of a truly American music. Combining more than two hundred of Carl Fleischhauer's photographs with Neil V. Rosenberg's expert commentary, this elegant visual documentary captures the music-making with the culture and community that foster it.
* Publication of this book was supported by a grant from the Lyndhurst Foundation, Bluegrass Unlimited, and Ralph and Ruth Fisher
About the Author
Carl Fleischhauer coordinated digital library projects in the Library of Congress's Office of Strategic Initiatives before his retirement. Grammy Award–winner Neil V. Rosenberg is the professor emeritus of folklore at Memorial University of Newfoundland. He is the author of Bluegrass Generation: A Memoir and Bluegrass: A History.
Reviews
"Chock-full of photos capturing the first decade of the festival movement. . . . Those pictures reflect the passion, commitment, and simple pleasure of performers and fans alike, supporting the notion that a good weekend of bluegrass music can make a believer of anyone." --Richard Harrington,
Washington Post
"Fleishhauer's black and white photos capture something essential about the bluegrass experience. . . . One rapturous viewing wasn't enough -- these photographs demand to be mulled over. . . . That process is greatly aided by the generous and informative photo captions. . . . Exceptional work."--
Bluegrass Unlimited
---
Blurbs
"Bluegrass Odyssey is a superb work. The text is fascinating, and every picture captures the emotions that create the high lonesome sound and the style of the musicians who play it."--Hal Bruno, ABC News

"There are no two people with more knowledge of and dedication tobluegrass than Carl Fleischhauer and Neil Rosenberg. Here they combine their long-time friendship and considerable talents to produce a unique look at one of America's most distinctive art forms. The result is a vivid family album of bluegrass that will appeal to veteran fans and newcomers alike."--Charles Wolfe, author of A Good-Natured Riot: The Birth of the Grand Ole Opry
---