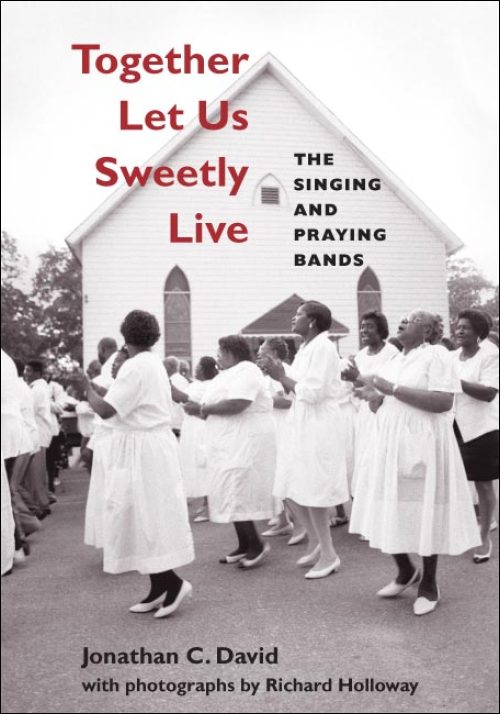 Together Let Us Sweetly Live
The Singing and Praying Bands
A forgotten and beautiful African American folk tradition re-examined
Paper – $30
978-0-252-07419-6
Publication Date
Paperback: 01/01/2007
Cloth: 07/09/2007
About the Book
Together Let Us Sweetly Live
offers a rare look at the unique grassroots African American religious institutions called the Singing and Praying Bands. This folksong and ring shout tradition began in Chesapeake Bay country in the early nineteenth century, with a fusion of Methodist prayer meeting worship and African religious, danced song traditions. Although scholars have assumed ring shouts died out long ago, Jonathan C. David shows otherwise, ushering us inside tidewater communities of Maryland and Delaware where they continue to thrive.
A traditional band service represents a cultural commitment to mutual aid, called "help," operating as a system of social reciprocity, as a performance aesthetic, and as the foundation of community spirituality. The book's nine chapters tell the story of the Singing and Praying Bands at these services through oral histories, each told by a different member of a group. Seventy-eight photographs along with twenty-one song notations bring the spirit of the culture to life. The author's introduction provides the historical and ethnographic context needed to understand the bands and their tradition.
An accompanying CD of original field recordings offers an opportunity to hear the service as if you were there.
* Supported by a grant from the Maryland State Arts Council, an agency funded by the State of Maryland and the National Endowment for the Arts
About the Author
Jonathan C. David is an independent scholar living in Philadelphia. He has produced and annotated a CD, On One Accord: The Singing and Praying Bands of Tidewater Maryland and Delaware. Richard Holloway is a professional photographer based in Philadelphia.
Reviews
"
Together Let Us Sweetly Live
is an invaluable contribution to the study of folk culture, and a testament to the resilience of a heretofore largely overlooked tradition."--
Sing Out!
"This indispensable reference source and comprehensive treasury of information on a phenomenal heritage and culture includes an accompanying CD of a sample recording of a Singing and Praying Band."--
Multicultural Review
"Jonathan David has put together a fine set of first-person accounts that together convey a detailed view of this distinctive cultural tradition."--
European Journal of Communication
"The stories taken together provide a panorama of history, showing the singing and praying band tradition from the insider's perspective, focusing on personal relationships, folk traditions, and the ties that bind the practitioners and the community."--
Journal of Folklore Research
"A book rich in detail and deeply respectful of the bands and their worship practices."--
Western Folklore
"Remarkable. . . . A rich historical and ethnographic portrait of the tradition and the community."--
Smithsonian Folkways Magazine
---
Blurbs
"This book is superb. It combines historical analysis, first-person narrative, musical transcription, and photography to form a landmark study of folk religion. With insight and respect it conveys a wonderful sense of humanity."--Stephen Wade, editor and producer of A Treasury of Library of Congress Field Recordings
---