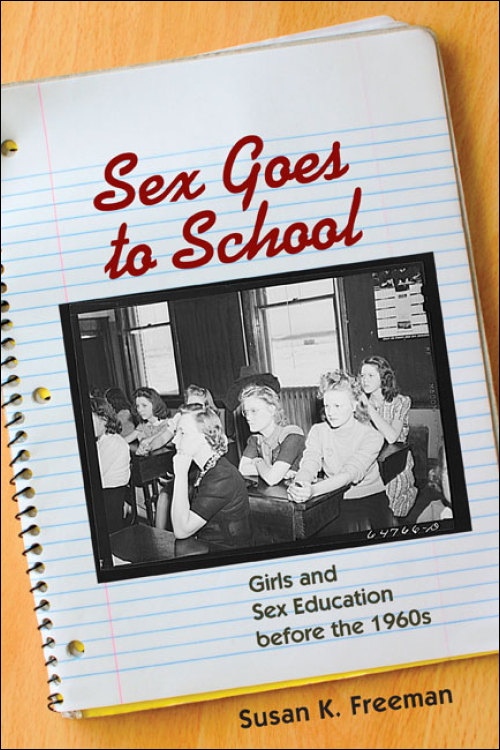 Sex Goes to School
Girls and Sex Education before the 1960s
An informed perspective on sex education in the 1940s and 1950s
Paper – $28
978-0-252-07531-5
eBook – $19.95
978-0-252-09128-5
Publication Date
Paperback: 01/01/2008
Cloth: 07/28/2008
About the Book
When seeking approaches for sex education, few look to the past for guidance. But Susan K. Freeman's investigation of the classrooms of the 1940s and 1950s offers numerous insights into the potential for sex education to address adolescent challenges, particularly for girls. From rural Toms River, New Jersey, to urban San Diego and many places in between, the use of discussion-based classes fostered an environment that focused less on strictly biological matters of human reproduction and more on the social dimensions of the gendered and sexual worlds that the students inhabited.
Although the classes reinforced normative heterosexual gender roles that could prove repressive, the discussion-based approach also emphasized a potentially liberating sense of personal choice and responsibility in young women's relationship decisions. In addition to the biological and psychological underpinnings of normative sexuality, teachers presented girls' sex lives and gendered behavior as critical to the success of American families and, by extension, the entire way of life of American democracy. The approaches of teachers and students were sometimes predictable and other times surprising, yet almost wholly without controversy in the two decades before the so-called Sexual Revolution of the 1960s. Sex Goes to School illuminates the tensions between and among adults and youth attempting to make sense of sex in a society that was then, as much as today, both sex-phobic and sex-saturated.
About the Author
Susan K. Freeman is an assistant professor of women's studies at Minnesota State University, Mankato.
Reviews
"Fills an important gap in scholarship on the history of sex education by examining the period between the release of the notorious Kinsey Reports and the so-called sexual revolution of the 1960s."--
American Historical Review
"
Sex Goes to School
brings an important perspective to our understanding of how and what young people learned about sexuality at a time when high school was becoming a mass institution."--
The Journal of American History
---
Blurbs
"The originality of this book lies in its argument that sex educators were more progressive than previously understood, and that controversy about sex in the schools arose not in the staid, conformist 1940s and '50s but rather the liberal 1960s. A truly fresh perspective, Sex Goes to School will be a significant contribution to the fields of sexuality, education, and the history of gender."--Karen Dubinsky, author of Improper Advances: Rape and Heterosexual Conflict in Ontario, 1880-1929
---