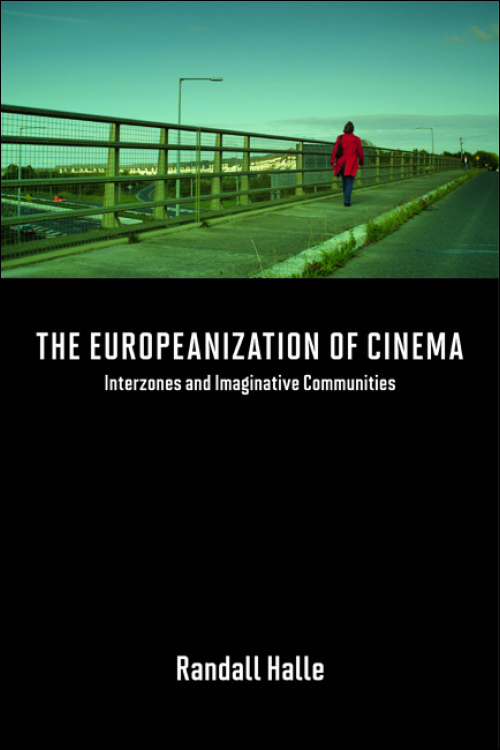 The Europeanization of Cinema
Interzones and Imaginative Communities
An original and exciting examination of boundary-crossing spaces in European cinema
Cloth – $110
978-0-252-03845-7
Paper – $30
978-0-252-07995-5
eBook – $19.95
978-0-252-09633-4
Publication Date
Cloth: 06/30/2014
About the Book
In this innovative study, German and film studies scholar Randall Halle advances the concept of "interzones" as a mechanism for analyzing European cinema. Interzones, he explains, are geographical and ideational spaces that develop from border crossing in the broadest sense. They are places of transit, interaction, transformation, and contested diversity.
Halle explicates this innovative concept by reinvigorating the theory of the cinematic apparatus, exploring anew the relationships between cinema and the social order. Focusing especially on films about borders, borderlands, and cultural zones, he shows how interzones have manifested in distinct periods of cinema history.
Early Central European cinema, he argues, builds interzones by exploring the tensions and points of connection between German, Russian, and Turkish imperialism on the one hand and nation building on the other. Following World War II and the Cold War, the focus shifts to moments of "first contact" between former antagonists: Germany and Poland, East and West Germany, and the like. Documentaries of these moments, Halle asserts, literally envision relationships that prefigure today's interzonal Europe.
That Europe emerges in twenty-first-century cinema, which uses handheld cameras, digitization, and other technological advancements to probe questions of spatial relations, migration, globalization, and transnationalism. The interzones of European films distributed overseas, and of African and Asian films co-sponsored with European funds, raise equally important issues of neocolonialism and cultural imperialism.
Ultimately, Halle argues that today's cinema both produces and reflects imaginative communities. He demonstrates how, rather than simply erasing boundaries, the European Union has instead fostered the cognitive (as opposed to geopolitical) mapping of points of distinction and of solidarity. The result is a network of cultural interzones, depicted in and engendered by films that explore the new Europe's processes and limits of connectivity, tolerance, and cooperation.
Reviews
"Fascinating. The book's meticulous, insightful, and effective writing, which illuminates the ideational spaces of cinematic interzones from a European context, should have no trouble finding several imaginative communities of active readers."--
Council For European Studies
"An intelligent and innovative study."--
Journal of Contemporary European Studies
---
Blurbs
"An original and ground-breaking view of the post-Wende central European landscape, drawn from a remarkable abundance of sources. Halle's writing is intelligent and even amusing--I couldn't put the book down until I had read it to the last page."--Janina Falkowska, author of Andrzej Wajda: History, Politics, and Nostalgia in Polish Cinema
---