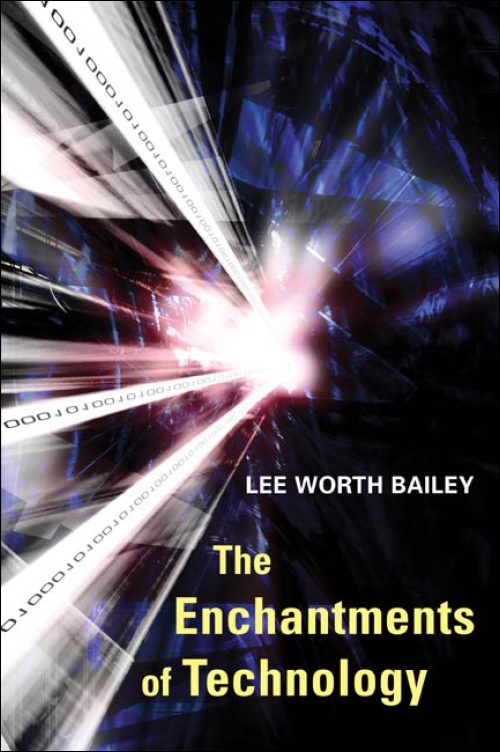 The Enchantments of Technology
A rollicking romp through our hidden assumptions about modern, technological existence
Paper – $28
978-0-252-07232-1
eBook – $19.95
978-0-252-09044-8
Publication Date
Paperback: 01/01/2005
Cloth: 10/31/2005
About the Book
In
The Enchantments of Technology,
Lee Worth Bailey erases the conventional distinction between myth and machine in order to explore the passionate foundations concealed in technological culture and address its complex ethical, moral and social implications.
Bailey argues that technological society does not simply disenchant the world with its reductive methods and mechanical metaphors, then shape machines with political motives, but is also borne by a deeper, subversive undertow of enchantment. Addressing examples to explore the complexities of these enchantments, his thought is full of illuminating examinations of seductively engaging technologies ranging from the old camera obscura to new automobiles, robots, airplanes, and spaceships.
This volume builds on the work of numerous scholars, including Jacques Ellul and Jean Brun on the phenomenological and spiritual aspects of technology, Carl Jung on the archetypal collective unconscious approach to myth, and Martin Heidegger on Being itself. Bailey creates a dynamic, interdisciplinary, postmodern examination of how our machines and their environments embody not only reason, but also desires.
About the Author
Lee Worth Bailey is an associate professor of religion at Ithaca College. His books include The Near Death Experience: A Reader, with Jenny Yates, and Anthology of Living Religions, with Mary Pat Fisher.
Reviews
---
Blurbs
"Big, diverse, fun--a reading romp! From out of a melting pot of Freud, Jung, Heidegger, and many more, Bailey produces vignettes of deeply insightful work and does a good job of putting the history of scientific disenchantment and its re-enchanting undertow into context."--Don Ihde, author of Technology and the Lifeworld

"At the start of the twenty-first century, our need to become 're-enchanted' with our technologically made world has perhaps never been more urgent. Lee Bailey's The Enchantments of Technology guides us through essential myths about the impact of technology. Capturing the complex movement between the paradoxical light and dark side of life in 'technologically intoxicated zones,' this work leads us to the possibility of cultural refinement in a world dominated by machine logic."--Denise Pilato, associate professor of technology & culture at Eastern Michigan University's School of Technology Studies
---