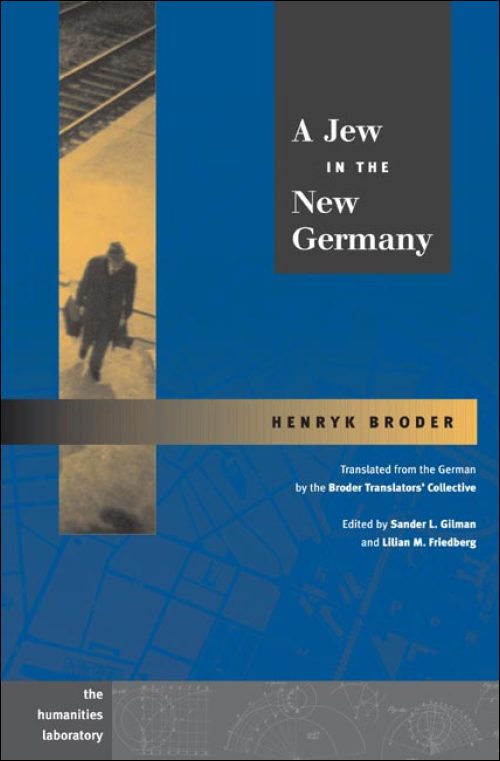 A Jew in the New Germany
Translated from the German by the Broder Translators' Collective. Edited by Sander L. Gilman and Lilian M. Friedberg
Eighteen of Broder's essays from 1979 - 2001, exposing the contradictory attitudes of Germans toward the Jews and the hypocritical stances often assumed by the Jewish establishment in Germany. Broder is one of the most widely read essayist in Germany. His writing is described as sharp, colorful, funny and controversial.
Cloth – $37
978-0-252-02856-4
Publication Date
Cloth: 01/05/2004
About the Book
Henryk Broder, one of the most controversial and engaging writers in Germany today, has been a thorn in the side of the Establishment for thirty years. The son of two Polish Holocaust survivors, Broder is not only a trenchant political critic and observant social essayist but an invaluable chronicler of the Jewish experience in late twentieth-century Germany.
This volume collects eighteen of Broder's essays, translated for the first time into English. The first was written in 1979 and the most recent deals with the post-9/11 realities of the war on terrorism, and its effects on the countries of Europe. Other essays address the debate over the construction of a Holocaust memorial in Berlin, the German response to the 1991 Gulf War, the politics of German reunification, and the rise of the new German nationalism.
Broder charts the recent evolution of German Jewish relations, using his own outsider status to hold up a mirror to the German people and point out that things have not changed for German Jews as much as non-Jews might think.
Reviews
---
Blurbs
"This collection is, quite simply, a good read relevant to anyone interested in German-Jewish, German-Israeli and German-American relations."--Muriel Cormican, University of West Georgia

"The beauty and relevance of this exemplary collection lie in the range of topics and the excellent translations of the German texts. Broder provides an insightful snapshot of the German people in the throes of memory politics, social upheaval, and national unification."--Karen Remmler, editor of Jewish Writing in Germany
---