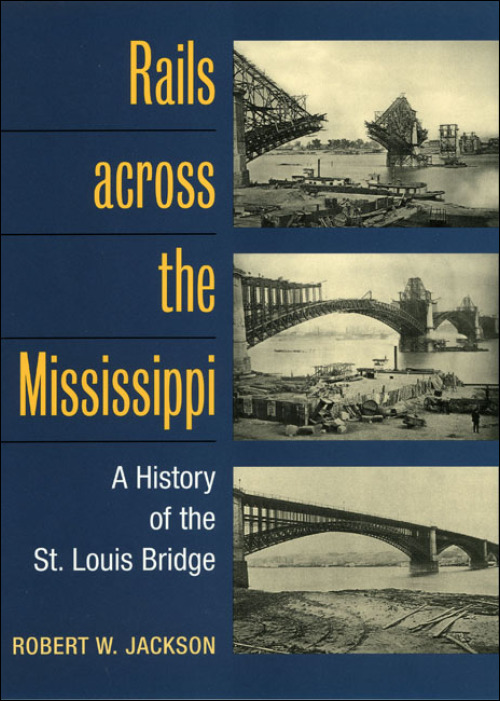 Rails across the Mississippi
A History of the St. Louis Bridge
The story of the visionary drive that created an engineering marvel
Paper – $20.95
978-0-252-07409-7
Publication Date
Paperback: 01/01/2007
About the Book
An absorbing tale of grand dreams, shady politics, daring engineering experiments, greed, ambition, and westward expansion,
Rails across the Mississippi
is the first book-length history since 1881 to document the planning, financing, and construction of the first bridge across the Mississippi River at St. Louis, a national engineering landmark com-pleted in 1874 that is now known as the Eads Bridge.
James B. Eads--who was not even a trained engineer--proposed a radical arch bridge longer than any in existence using steel, a material thought unsuitable for long-span bridges by virtually every engineer in America and Europe. Robert W. Jackson takes a fresh look at this monumental project, dispelling the myths, filling in the gaps left by earlier scholarship, and detailing how Eads tenaciously overcame the many obstacles he faced to realize his unique vision.
About the Author
Robert W. Jackson is an urban planner and historian who has worked for the National Park Service, Historic American Engineering Record, and on documentation projects in Iowa, Pennsylvania, and Texas.
Reviews
"[The Eads Bridge] has long been recognized as one of the outstanding civil engineering accomplishments of 19th-century America. . . . This volume focuses on the bridge's local political and national business contexts. . . . The research is thorough, the writing excellent."--
Choice
"An excellent account of the protracted struggle to . . . [create] a permanent rail crossing of the lower Mississippi River at St. Louis. . . . Jackson, an urban planner and historian with expertise in engineering documentation, provides good coverage of all aspects of the bridge story through extensive use of primary sources such as government documents, corporate reports, correspondence of key participants, and contemporary newspapers. The book also contains thirty-four pages of high-quality maps, photographs, and technical drawings."--Richard W. Barsness,
Journal of Illinois History
"This book is an economic, political and technological biography of a bridge. . . . Jackson carefully and successfully intertwines these various elements of the bridge's history. . . . Jackson's emphasis on the people associated with the design, financing, and construction of the bridge, and his analysis of the bridge's place in the city's economic history make an interesting read."--Robert T. Schultz,
Journal of the Illinois State Historical Society
---
Blurbs
"Rails across the Mississippi is a local study of national import. Where previous books on the Eads Bridge have treated it as an artifact of innovative technology, Robert W. Jackson treats it primarily as an artifact of innovative economics, using the bridge to reveal the financial mechanics of emergent industrial capitalism in the Gilded Age. The writing is lucid, the research staggeringly thorough."--Howard S. Miller, author of St. Louis in the Gilded Age

"An engaging account of the political, financial, and technical challenges behind a great engineering achievement."--Henry Petroski, author of Engineers of Dreams: Great Bridge Builders and the Spanning of America
---