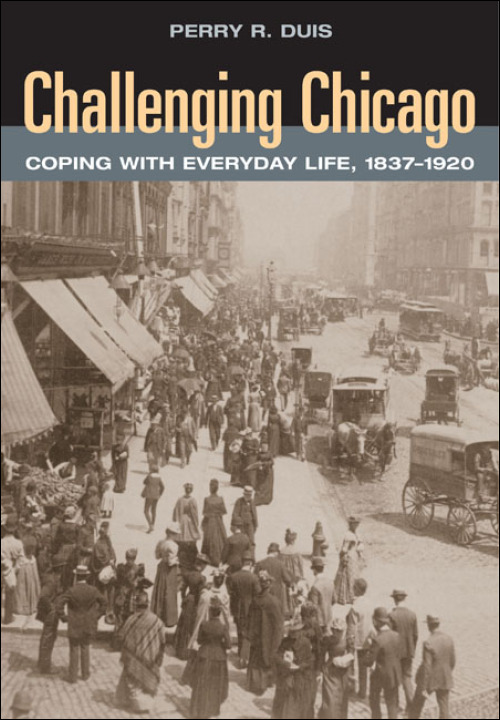 Challenging Chicago
Coping with Everyday Life, 1837-1920
Hard lives and how they were lived in old Chicago
Paper – $22.95
978-0-252-07415-8
Publication Date
Paperback: 01/01/2007
About the Book
During an unprecedented period of rapid growth, the burgeoning metropolis of Chicago quickly became a "concentration of risk": far more congested, dangerous, unpleasant, immoral, and unhealthy than newcomers had anticipated. Through vignettes and real-life stories,
Challenging Chicago
reveals lower- and middle-class peoples' strategies for coping with technology, crowding, anonymity, and other urban ills.
Follow along and encounter some of Chicago's most infamous citizens--the loathed Traction Baron, high-speed "scorchers," and peddlers of "swill milk." Learn about the perils of payday, the lunchtime problems of women, the lure of dime museums, and the fatal attraction of Chicago's "cruelest place." Against this bleak backdrop emerged the innovators and institutions that made Chicago the vibrant city it is today. The superbly textured narrative is enhanced by eighty-six historic photographs and illustrations.
Reviews
"Not only is Challenging Chicago a model of how to turn a collection of articles into a book, it is one of the best books ever written about Chicago. . . . Duis has mastered an incredible amount of information (the illustrations and endnotes are worth the price of the book). . . . After reading Challenging Chicago you will never again look at the urban landscape -- the streets, the river, the warehouses, the neighborhoods, the houses and the architecture -- without seeing the remains of the city that once was, and without thinking of the people who lived there."--James L. Swanson, Chicago Tribune

"A fascinating glimpse at the excitement as well as the dangers and risks of life in one of the world's great industrial cities. . . . Chicago, a tough, wonderful place, finds expression in Duis's fascinating book."--James R. Barrett, The Historian
---