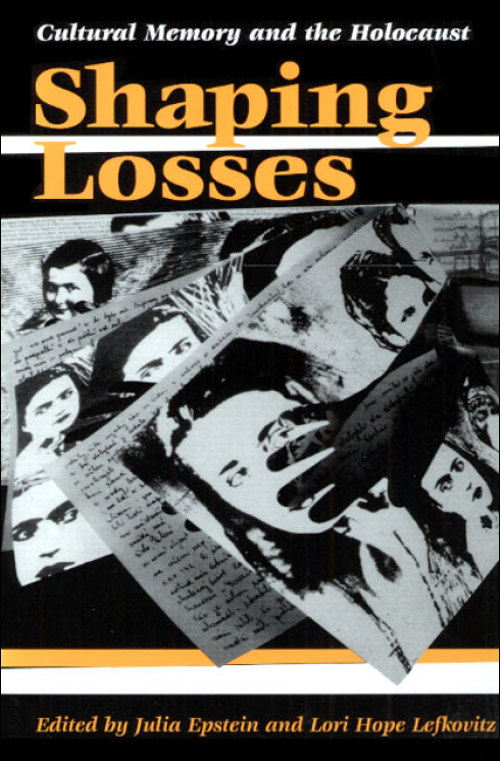 Shaping Losses
Cultural Memory and the Holocaust
Looking at works of art as well as family relationships, Shaping Losses explores how traumatic loss shapes personal and cultural identity.
Cloth – $110
978-0-252-02438-2
Paper – $32
978-0-252-06949-9
Publication Date
Paperback: 01/01/2001
Cloth: 01/01/2001
About the Book
Shaping Losses
explores how traumatic loss affects identity and how those who are shaped by loss give shape, in turn, to the empty place where something--relationships, family, culture--was and is no longer. Taking the example of the decimation of European Jewry during the Nazi era,
Shaping Losses
confronts the problem of transforming trauma into cultural memory.
This eloquent volume examines how memoirs, films, photographs, art, and literature, as well as family conversations and personal remembrances, embody the impulse to preserve what is destroyed. The contributors -- all distinguished women scholars, most of them survivors or daughters of survivors--examine classic memorializations such as Claude Lanzmann's film Shoah and Roman Vishniac's photographs of prewar Jews as well as several less-well-known works. They also address ways in which children of survivors of the Holocaust--and of other catastrophic traumas--struggle with inherited or vicarious memory, striving to come to terms with losses that centrally define them although they experience them only indirectly.
Shaping Losses considers the limitations of Holocaust representations and testimonies that capture shards of the experience but are necessarily selective and reductive. Contributors discuss artistic efforts to "preserve the rawness" of memory, to resist redemptive closure in Holocaust narratives and public memorials, and to prevent the Holocaust from being sealed in "the cold storage of history." The authors probe the nature of memory and of trauma, studying the use of language within and outside a traumatic context such as Auschwitz and pinpointing the qualities that make traumatic memory ineffable, untransmittable, and perhaps unreliable. Within the "haunted terrain of traumatized memory" that all Holocaust testimonies inhabit, the impulse to give form to emptiness--to shape loss--emerges as a necessary betrayal, a vital effort to bridge the gap between history and memory.
Reviews
"Explores cultural memory and the Holocaust through memoir, art, and literary criticism and the personal essay. . . . All of Lefkovitz' considerations of the Holocaust's legacy in her own life are marked by ambivalence. And she suspects that the 'most powerful aspect of the legacy may be ambivalence': 'We have Hitler to thank for our presence in America.' This is the ultimate paradox in the work of shaping losses: when a person recognizes that she would not exist were it not for that loss." -- Arwen Donahue,
The Women's Review of Books
"Epstein and Lefkovitz have collected an admirable mix of essays on Holocaust memory that are critically honest, intensely personal, and courageously reflective about the scope and meaning of unbearable tragedy." --Biography
---