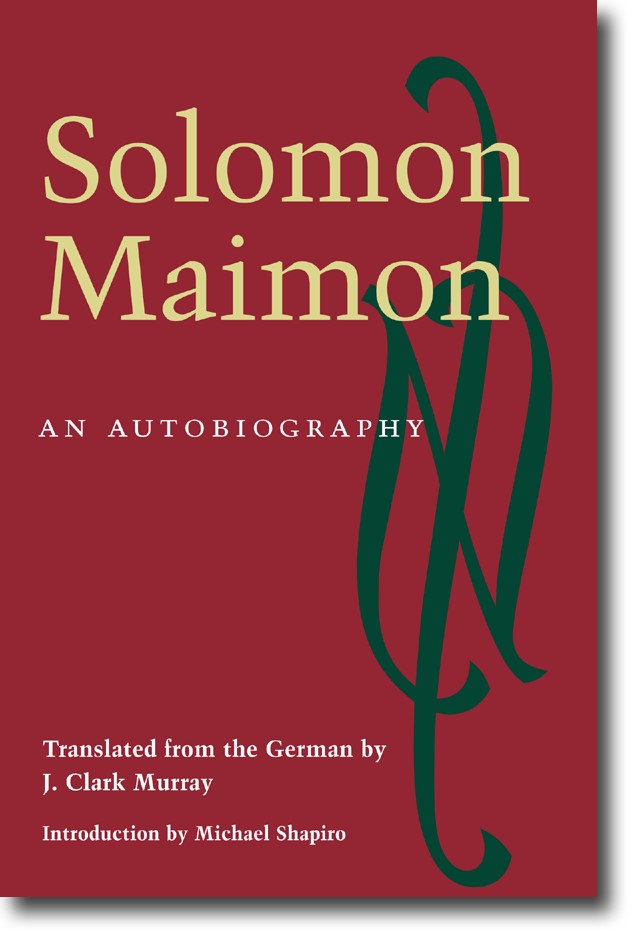 An Autobiography
Translated from the German by J. Clark Murray. Introduction by Michael Shapiro
Now available for the first time in paper, the classic translation of the autobiography of one of the great thinkers of the eighteenth century
Paper – $28
978-0-252-06977-2
Publication Date
Paperback: 01/01/2001
About the Book
Brilliant and bedraggled, the picaresque Jewish philosopher Solomon Maimon was one of the great thinkers of the eighteenth century. Now the definitive English version of Maimon's remarkable
Autobiography
, the 1888 translation by J. Clark Murray, is available for the first time in paperback, enhanced with a new introduction by Jewish studies scholar Michael Shapiro.
Wry and spirited, shrewd and unrepentant, Maimon alternated between nomadic destitution and intellectual swordplay among the Jewish elite of Berlin. The son of a petty merchant in Polish Lithuania, Maimon was a child Talmud prodigy who became increasingly antagonistic toward the Jewish establishment and receptive toward the secular philosophies of Spinoza, Hume, Leibnitz, and Kant.
A perpetual outsider, Maimon observed with an equally sharp eye the excesses of his time and the vicissitudes of his own life. Parallel to his own development as a thinker in the company of Moses Mendelssohn and others, Maimon conveys the physically wretched but spiritually vibrant Polish ghetto, the beginnings of Hasidism (which he denounces as antirationalist), and the world of the wealthy Berlin Jewry who enthusiastically embraced the ideas of the Enlightenment.
Combining philosophical discourse with personal anecdotes that shift abruptly from the tragic to the hilarious and back, Maimon's Autobiography indelibly portrays one man's devotion to truth on his own terms regardless of the cost to himself or others.
About the Author
Solomon Maimon (1753-1800) was the author of a major critique of Kantian philosophy, Search for the Transcendental Philosophy, and of Philosophical Dictionary, On the Progresses of Philosophy, and Critical Investigations of the Human Spirit. J. Clark Murray was a professor of mental and moral philosophy at McGill College, Montreal, and the author of The Industrial Kingdom of God. Michael Shapiro is the director of the Sheldon and Anita Drobny Interdisciplinary Program for the Study of Jewish Culture and Society at the University of Illinois at Urbana-Champaign.
---