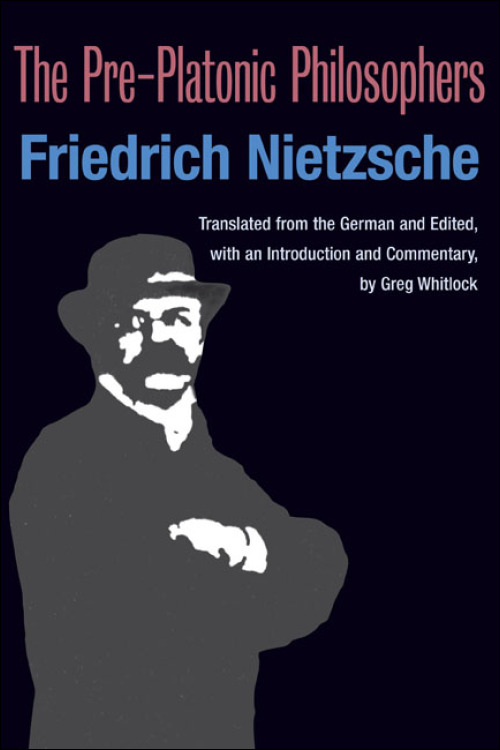 The Pre-Platonic Philosophers
Translated from the German and Edited, with an Introduction and Commentary, by Greg Whitlock
The first English translation of Nietzsche's vital thinking on the pre-Platonics
Paper – $27.95
978-0-252-07403-5
Publication Date
Paperback: 01/01/2006
About the Book
The Pre-Platonic Philosophers
supplies English-language readers with a crucial missing link in Nietzsche's development by reproducing the text of a lecture series delivered by the young philosopher (then a philologist) at the University of Basel between 1872 and 1876. In these lectures, Nietzsche surveys the Greek philosophers from Thales to Socrates, establishing a new chronology for the progression of their natural scientific insights. He also roughly sketches concepts such as the will to power, eternal recurrence, and self-overcoming and links them to specific pre-Platonics.
Greg Whitlock is the first scholar to have wrestled Nietzsche's difficult manuscript into English. This superbly readable translation, now in paperback for the first time, is complete with Nietzsche's own extensive sidenotes and philological citations, and is accompanied by a prologue, an introductory essay, commentary on the lectures, and voluminous bibliographical materials.
About the Author
Greg Whitlock
is the program director for philsophy and religion at Parkland College in Champaign, Illinois. He is the author of
Returning to Sils-Maria: A Commentary to Nietzsche's "Also Sprach Zarathustra"
and the translator of Mazzino Montinari's
Reading Nietzsche.
---
Also by this author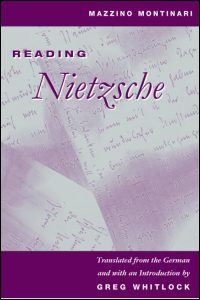 Reviews
"An excellent translation and commentary on these important texts, important ones not just for Nietzsche's views but for those of the pre-Platonic philosophers themselves."--Fred W. Burnett,
Religious Studies Review
"An enormous effort and prodigious scholarly skills were required to produce this book."--
Choice
---
Blurbs
"A prodigious feat of scholarly research and an important contribution to Nietzsche scholarship. In the future, anyone interested in the evolution of Nietzsche's thought will simply have to pay attention to Whitlock's interpretation."--Daniel Breazeale, author of Philosophy and Truth: Selections from Nietzsche's Notebooks of the Early 1870s

"Greg Whitlock's translation of Nietzsche's lectures on the pre-Socratic philosophers provides the very first access in English to these vital texts. The young Nietzsche's idea of what philosophy can and should (and should not) do is summarized in his readings of Pythagorus, Heraclitus, Zeno, and the rest. The lectures conclude with Nietzsche's first and most compelling reading of Socrates. For the first time the English reader can share this odd but compelling view back to the Greeks from the standpoint of Nietzsche's lectures in 19th century Basel--and share in an understanding of the task Nietzsche set himself as a philosopher."--Sander Gilman, author of Conversations with Nietzsche: A Life in the Words of His Contemporaries
---