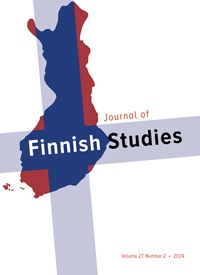 Journal of Finnish Studies
Editor: Tom DuBois
DETAILS
Current Volume: 1
Spring/Summer & Fall/Winter
ISSN: 1206-6516
eISSN: TBA
About
Since 1997, the Journal of Finnish Studies (JFS) is an international, peer-reviewed journal for high-quality scholarly articles pertaining to Finland. JFS publishes the best and most timely articles regarding the study of Finnish and Finnish-American topics from interdisciplinary and traditional perspectives.

---
ONLINE + PRINT ADVERTISING
The print ad rates for all our titles can be found in the 2021 journals catalog/rate card.

Editors
Editor: Tom DuBois, University of Wisconsin, Madison
Book Review Editor:
Lotta Weckström, Lecturer, University of California, Berkeley, lotta.weckstrom@berkeley.edu
EDITORIAL BOARD
Börje Vähämäki, Founding Editor, Professor Emeritus, University of Toronto
Raimo Anttila, Professor Emeritus, University of California, Los Angeles
Sheila Embleton, Distinguished Research Professor, York University
Aili Flint, Emerita Senior Lecturer, Associate Research Scholar, Columbia University
Tim Frandy, Assistant Professor, Western Kentucky University
Daniel Grimley, Professor, Oxford University
Daniel K. Haataja, Senior Lecturer, University of Minnesota, Minneapolis
Titus Hjelm, Associate Professor, University of Helsinki
Johanna Laakso, Professor, University of Vienna
Jason Lavery, Professor, Oklahoma State University
James P. Leary, Professor Emeritus, University of Wisconsin, Madison
Andrew Nestingen, Professor, University of Washington, Seattle
Jyrki Nummi, Professor, University of Helsinki
Jussi Nuorteva, Director General, The National Archives of Finland
Juha Pentikäinen, Professor, University of Lapland
Oiva Saarinen, Professor Emeritus, Laurentian University, Sudbury
Beth L. Virtanen, Dean, Keweenaw Bay Ojibwa Community College
Keijo Virtanen, Professor Emeritus, University of Turku
Marianne Wargelin, Independent Scholar, Minneapolis
Lotta Weckström, Lecturer, University of California, Berkeley