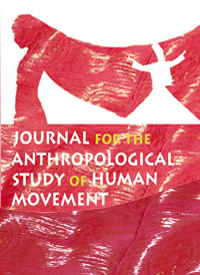 Journal for the Anthropological Study of Human Movement
Editor: Drid Williams
DETAILS
Issued biannually (Spring & Fall)
ISSN: 0891-7124
eISSN: 2152-1115
About
Now in an online-only format, the Journal for the Anthropological Study of Human Movement presents current research and stimulates discussion of ideas and issues that arise from a study of human movement within the framework of anthropological enquiry. Recognizing that there are overlaps between the concerns of this field and those of other human and social sciences, such as philosophy, linguistics, sociology and psychology, we encourage contributions from members of other disciplines who are interested in movement as a world-wide, and particularly human, phenomenon.

---
ONLINE + PRINT ADVERTISING
The print ad rates for all our titles can be found in the 2024 journals catalog/rate card.