It's the 2023 University Press Week and this year's theme is #SpeakUP, focused on amplifying university press work that gives voice to influential scholarship, advocates for social change, and provides new points of view. University presses and their authors publish a diverse and exciting array of research through a variety of publications and platforms.
This week, we're highlighting exciting content, projects, and initiatives from our journals and books departments that allow our authors to #SpeakUP. Make sure to check out our other posts for the week, as well as the other posts in the UP Week blog tour and browse the #SpeakUP gallery here.
---
Throughout 2023, we have actively participated in conferences and meetings held by diverse organizations and scholarly societies, both in person and virtually. These have presented invaluable opportunities for us to engage with the scholarly community, meet our readers and esteemed authors face-to-face, and foster connections with other university presses. That's why we have decided to present this retrospective for the University Press Week 2023 blog tour, hosted by the Association of University Presses. Through this reflection, we aim to spotlight the places where you might have seen us #SpeakUP about the exceptional books and journals offered by the University of Illinois Press.
Here's where we've been working with communities of scholars, scholarly societies, and organizations to amplify our authors' work in communities around the world (or, at least in the U.S. and Canada, for the purposes of this post).
Philadelphia, PA: American Historical Association – January 5, 2023
To kick off our first conference appearance of the year, this virtual exhibit guided attendees through all the American history content that the University of Illinois Press has to offer, with feature sections on New and Forthcoming Books, the Studies of World Migration Series, Disability Histories News, Labor Studies, Biographies, Women and Gender Studies, a Sneak Peak at Spring/Summer 2023 titles (now available), and an extensive selection of our relevant journals.
Minneapolis, MN: Society for American Music – March 8, 2023
We were so pleased to get to celebrate alongside our accomplished authors who received well-deserved recognition at this conference. Howard Pollack, author of Samuel Barber and Aaron Copland, was honored with a Lifetime Achievement Award, while Leta E. Miller, co-author of Chen Yi, won the Distinguished Service Award from the Society of American Music.
During this event, we also showcased our journal American Music, paying tribute to the new editor Nancy Yunhwa Rao and commemorating the journal's 40th volume year. At the time we were looking forward to the now-available special issues: "Special Forum on Public Musicology and the Music of Asian America" and "Marking Forty Years of American Music."
Moreover, we had the pleasure of reconnecting with some of our esteemed authors, including Christopher Reali, author of Music and Mystique in Muscle Shoals.
Charlotte, NC: African American Intellectual History Society – March 9, 2023
Our presence at this conference allowed us to connect with Leslie M. Alexander, author of Fear of a Black Republic: Haiti and the Birth of Black Internationalism in the United States, who graciously signed copies of her book. Online, we proudly displayed a dozen carefully selected books and featured two of our journals: Women, Gender, and Families of Color and the Journal of American Ethnic History.
Athens, OH: Appalachian Studies Association – March 16, 2023
During the Appalachian Studies Association meeting, we were actively engaged at our display table and also at the registration table, where we assisted attendees, ensuring they found their way. We (of course) featured the Journal of Appalachian Studies, as well as a fantastic selection of other relevant journals and books. One notable work that may have caught your attention is Brooks Blevins' three volume series, A History of the Ozarks.
Los Angeles, CA: Organization of American Historians – March 30, 2023
The Organization of American Historians meeting was a great place to #SpeakUP alongside our book authors and contributors to our journals. The Press boasts a diverse collection of journals to pique the interest of American historians: Connecticut History Review, Journal of the Illinois State Historical Society, Utah Historical Quarterly, Journal of the Abraham Lincoln Association, and many, many more.
While attending the conference, we had the pleasure of seeing Sonia Hernández, author of For a Just and Better World; Thomas A. Castillo, author of Working in the Magic City; and Tyrone McKinley Freeman, author of Madam C.J. Walker's Gospel of Giving.
Los Angeles, CA: Association for Asian American Studies – April 6, 2023
At this conference, we highlighted the Journal of American Ethnic History and Women, Gender, and Families of Color, along with a selection of sixteen books. Explore our virtual exhibit to discover compelling works such as Care Activism: Migrant Domestic Workers, Movement-Building, and Communities of Care by Ethel Tungohan, Shadow Traces: Seeing Japanese/American and Ainu Women in Photographic Archives by Elena Tajima Creef, among others.
Denver, CO: Society for Cinema and Media Studies – April 12, 2023
Mariah Schaefer, acquiring editor for the Women's Media History Now! series was available to engage with prospective authors, offering an opportunity to #SpeakUP and discuss potential book ideas.
Daniel Nasset, editor-in-chief, is another valuable contact who acquires books in communication and media studies.
As always, this virtual exhibit gives provides a glimpse into the thought-provoking books and journals that scholars in this field may find illuminating.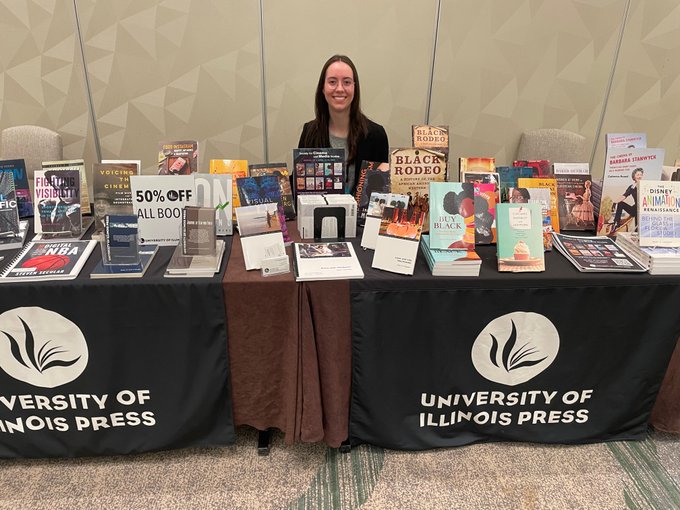 New Brunswick, NJ: Labor and Working Class History Association – May 18, 2023
We had the great pleasure of getting to #SpeakUp at the Labor and Working Class History Association meeting alongside Lorenzo Costaguta, author of Workers of All Colors Unite; Steven Beda, author of Strong Winds and Widow Makers; and Matthew E. Stanley, author of Grand Army of Labor. You can learn more about the Herbert G. Gutman Prize for Outstanding Dissertation, view many virtual events, and find relevant articles in our journals.
Toronto, Ontario: International Communication Association – May 25, 2023
Discover captivating works like Mr. Associated Press: Kent Cooper and the Twentieth-Century World of News by Gene Allen, Shadow of the New Deal: The Victory of Public Broadcasting by Josh Shepperd, and the other books we highlighted for the International Communication Association conference through our virtual exhibit. You'll also find articles of interest to read if you dive into the contents of any issue of the Journal of Film and Video or Music and the Moving Image.
Arlington, VA: North American Society for Sport History – May 26, 2023
At this conference we featured the Journal of Olympic Studies, the Journal of Sport History, and an array of books. Experience the virtual book launch for Fighting Visibility: Sports Media and Female Athletes in the UFC by Jennifer McClearen and a video introduction to Surf & Rescue: George Freeth and the Birth of California Beach Culture by Patrick Moser.
Rochester, NY: Mormon History Association – June 8, 2023
We saw so many of our authors at this conference: Caroline Kline author of Mormon Women at the Crossroads, Bruce W. Worthen author of Mormon Envoy, Scott Marianno author of Restless Pilgrim, and Hazel O'Brien author of Irish Mormons. You can also listen to our new podcast celebrating the tenth volume year of Mormon Studies Review, featuring the editors Benjamin E. Park and Quincy D. Newell.
Santa Clara, CA: Berkshire Conference on the History of Women – June 28, 2023
For this triennial conference, we featured two virtual book launch events: Wanda A. Hendricks' The Life of Madie Hall Xuma: Black Women's Global Activism During Jim Crow & Apartheid and Elizabeth Schroeder Schlabach's Dream Books & Gamblers: Black Women's Work in Chicago's Policy Game. Additionally, we proudly presented the journal Women, Gender, and Families of Color, and more.
Calgary, Alberta: Winnifred Eaton Conference – July 27, 2023
Looking for relevant reading material? This reading list contains six books, including Chinatown Opera Theater in North America by Nancy Yunhwa Rao, who is also the newly appointed editor of the journal American Music!
Washington DC: Association for Education in Journalism and Mass Communication – August 7, 2023
Explore the remarkable work A House for the Struggle: The Black Press and the Built Environment in Chicago by E. James West, winner of the 2023 BAAS Book Prize (British Association for American Studies), the American Journalism Historians Association Book of the Year, the International Association for Media and History Michael Nelson Prize, and the recipient of Superior Achievement from the Illinois State Historical Society's "Best of Illinois History" awards.  
You can also view our virtual book launch for Food Instagram: Identity, Influence & Negotiation edited by Emily J.H. Contois and Zenia Kish.
Jacksonville, FL: Association for the Study of African American Life and History – September 20, 2023
This blog post features a virtual book event for Buy Black: How Black Women Transformed US Pop Culture by Aria S. Halliday. Learn about this book and others, as well as our related journals, the Journal of American Ethnic History and Women, Gender, and Families of Color.
Free to access until November 30, 2023, you can read this article from Visual Arts Research: "Black on Black on Black on Black: An interview with Artist-Scholar Dr. Blair Ebony Smith" by Larua J. Hetrick.
Raleigh, NC: International Bluegrass Music Association – September 26, 2023
Whether your musical interests lie in bluegrass, country, folk, or old-time music, we have a varied collection of books to offer. Delve into titles such as DeFord Bailey: A Black Star in Early Country Music by David C. Morton with Charles K. Wolfe, Stringbean: The Life and Murder of a Country Music Legend by Taylor Hagood, and more.
Plus, as a special promotion "Music, Form, and Crooked Time in Felix van Groeningen's The Broken Circle Breakdown" by Shanti Nachtergaele in the journal Music and the Moving Image was free to access during the conference—and is still free until November 30, 2023, so check it out now!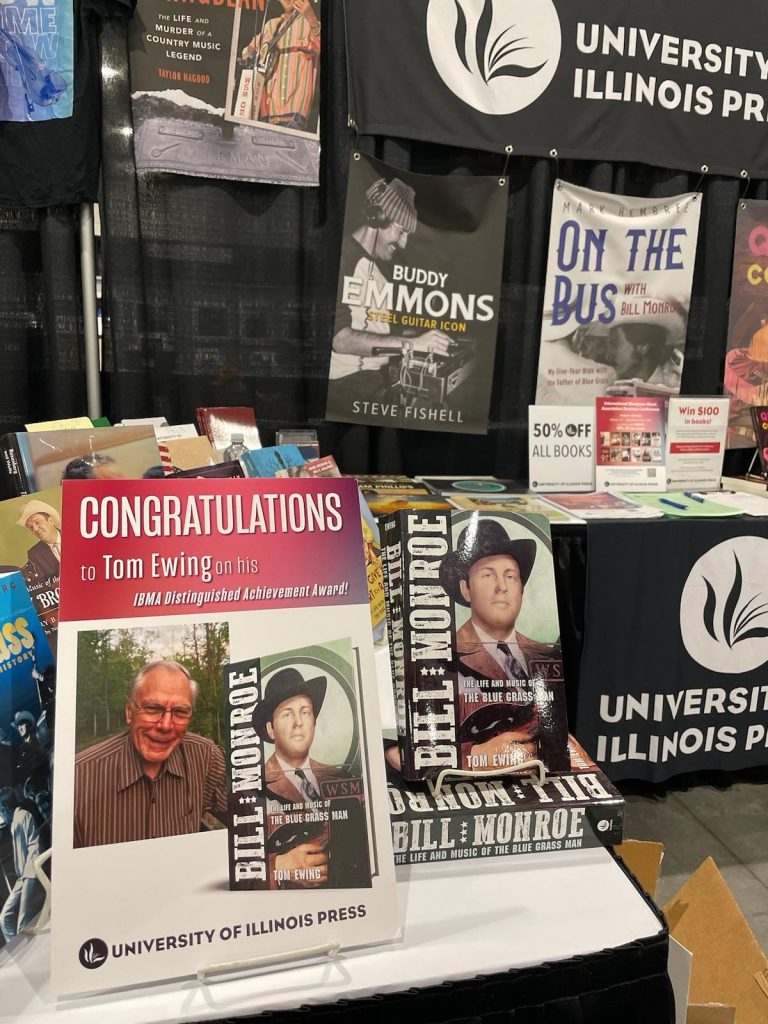 Springfield, IL: Conference on Illinois History – October 5, 2023
We were delighted to have Robert Sampson, author of Ballists, Dead Beats, and Muffins, and Adam Selzer, author of Graceland Cemetery present to sign copies of their books at this conference. As the University of Illinois Press, the Conference on Illinois History holds a special significance for us, and we encourage you to explore the wide range of books and journals available in our virtual exhibit. 
We were proud to present free access to an article from the Midcontinental Journal of Archaeology through the end of December 2023. Read "Uncovering Huber Lifeways: An Overview of Findings from Four Years of Excavations at the Huber Phase Middle Grant Creek Site (11WI2739) in Northern Illinois" by Madeleine McLeester and Mark R. Schurr.
Bowling Green, KY: Midwest Archaeological Conference – October 12, 2023
The Midcontinental Journal of Archaeology is the official journal of the Midwest Archaeological Conference (MAC). Edited by Robert A. Cook, the mission of the journal follows that of MAC: to promote and stimulate interest in the archaeology of the midwestern United States and neighboring areas; to serve as a bond among those interested in this and related subjects; to advocate for the conservation of archaeological data; and to encourage an appreciation and support of regional archaeological research. Check out some of our featured recent articles, learn about how to submit your work, and more on our blog post.
Ottawa, Ontario: Society for Ethnomusicology – October 19, 2023
At the Society for Ethnomusicology (SEM) annual meeting, we had the honor of showcasing the society's official journal Ethnomusicology, and even got to see editor Katherine M. Brucher and former editor Frank Gunderson in person. The SEM President, Tomie Hahn, posed for us with her book, Arousing Sense. Authors who stopped by included Lois Wilcken, a contributor to Performing Environmentalisms; Elizabeth A. Clendinning, author of American Gamelan and the Ethnomusicological Imagination; Anthony Seeger, contributor to Social Voices, Salwa el-Shawan Castello-Branco, co-editor of Music and the Making of Portugal and Spain; Sarah Morelli, author of A Guru's Journey; Margaret Sarkissian, co-author of Living Ethnomusicology; and Michael Silvers, author of Voices of Drought. We also had the pleasure of meeting the book review editor of American Music, Michael Birenbaum Quintero. All in all, it was a very eventful conference and was so great to meet our authors, contributors and readers.